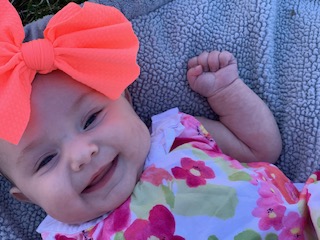 Katie & Rob
Infertility Diagnosis

Endometriosis
Polycystic ovary syndrome (PCOS)
Treatment(s)

Embryo Freezing
Frozen embryo transfer (FET)
In vitro Fertilization (IVF)
Location(s)
Physician(s)

David Corley
Robert Kiltz
Katie & Rob's Story:
We knew it wouldn't be easy to start our family as I had multiple surgeries to remove scar tissue and endometriosis.
When I was 15, I was diagnosed with Poly Cystic Ovarian Syndrome. During my last surgery in November 2016, both of my Fallopian Tubes were removed. They were blocked and heavily damaged and at this point were causing more harm than good.
Though I knew it was the right thing for my body, I fell into a bit of a depression. Any hope, no matter how little, of us having a family naturally was gone. My ob/gyn surgeon had recommended CNY Fertility to us and a month after surgery we had our first consultation with Dr. Corley.
We began keto and prepared for our first egg retrieval. I knew being depressed about the situation would not help my body prepare, so I began blogging and sharing our story through social media.
Infertility and IVF was taboo. No one talked about it, but once I started the conversation I started getting messages from friends asking for advice on trying to convince. The silence was breaking!
In February 2017 we had our first retrieval with Dr. Corley and ended up with 7 beautiful frozen embryos! Due to lack of insurance coverage after retrieval we had to put transfer on hold. It wasn't our exact plan but we needed to save money to continue.
While we took some time off, we still continued to spread awareness and in October I was honored to do a TV interview with a local news station about IVF. At this point I knew I wanted to do more; not just for us but for all families going through infertility treatments.
So, I started contacting local, county, and state government leaders in New York asking why there wasn't more coverage for families going through this. In March 2018 we finally began to prepare for our first frozen transfer. I was also invited back to the news station to give an update on our story and give some insight to NYS looking to move forward with infertility coverage.
After a much needed vacation to re-center our minds and focus on the future, we transferred our first embryo on April 3, 2018 with Dr. Kiltz. Every nurse and doctor tells you do not test at home, but we all know we are guilty of that. I took a pregnancy test on April 9th, my mom's birthday and with in 2 minutes, 2 line showed up! I was shocked, tears of joy running down my face. I had to FaceTime Rob as we were both at work! Our first beta on April 13th was 349.89, on April 15th, which was Rob's moms anniversary of her passing, it was 710, and our beta on 4/17 2003!!! On April 18th we were 4 weeks 6 days. We did an ultrasound and saw a gestational sac!! We were really pregnant! And we knew that our mom's were guiding us from heaven to bring this baby home! We monitored with CNY as long as we could, until the OB was able to get us in and on June 5, 2018 we had officially graduated!
Even though we are pregnant we were still continue to fight with CNY and Resolve and get better healthcare coverage for everyone! This is when I finally got to meet Chris Gray in person! We had communicated via email and over the phone at least once a week. She was one of our CNY angels as we went through treatments. To finally put a smiling face to a voice was so sweet. I adore Chris and I can't thank her enough for always being there for us.
Pregnancy was rough but so worth every second. Due to other health issues I had, we were considered high risk and we were seen every other week until 28 weeks then weekly until birth. At 36 weeks 6 days I went for my normal weekly appointment and I mentioned I was uncomfortable but they assured me everything was looking good. Baby girl was a little on the small side still but growing at a good rate and they were not concerned. So we scheduled our appointment for the following week. The next day at 37 weeks I went to work as normal, still uncomfortable but I guess that was expected by this point. I went to leave for lunch at 2:30pm and my water broke as I was leaving! Shocked, confused and scared I went up to the OB's office to be checked and sure enough baby girl was ready to make an entrance. I was in labor for 37 hours with extreme back labor the entire time. I had gotten 2 epidurals. Finally on December 1, 2018 at 3:13a Christiana Marie Tamez made her grand entrance into the world. Finally being able to hold this beautiful little girl that we fought so long and so hard for was her. She was tiny but mighty and just perfect!
We love CNY so much. Without CNY Fertility we never would have gotten through our journey. You guys, the nurses, doctors, and staff at both CNY Fertility and Healing Arts have become like family to us, helping our baby come home!!
Favorite Team Member at CNY:
Chris Gray will always have a special place in our hearts and in our family! She was our cheerleader all the way through our FET process and even all the way up to the birth of Chrisitana. We would email back and forth occasionally sharing my progress. She was there to help us when ever we hit a bump in the road and answering any questions we may have. I have also had the pleasure of joining Chris in Albany at the capital as we fought for infertility coverage in New York State. Every time we met she always had a huge smile on her face that lite up the room. And even over the phone it was almost like you could hear her smile. We are so blessed to have connected with Chris!
I also loved Heather who did my massages throughout my pregnancy at the Syracuse Healing Arts office. She was always very kind and made sure that my needs were met as I was very uncomfortable during my pregnancy. She would also give advice as to stretches I could do to help. I went for a massage about every 4 weeks and I always looked forward to seeing Heather and talking with her!
Dr. Kiltz and Dr. Corley.. I don't even know where to begin. Dr. Corley did my retrieval and Dr. Kiltz did our transfer. Both were so kind and genuine. Always made sure we were aware of what was going on, answered ever question we had no matter how silly it seemed. And their hugs... hugs I will never forget! They both prayed with us before each process. They gave us a piece of mind that we were going to do this and we would bring home this baby!
Helpful resources Katie & Rob found:
Blogging and being active on social media was kind of an outlet for me. I was able to share our experience and help others. I shared the good, the bad, and the ugly. I also joined a lot of infertility groups on social media and connecting with my fertility sisters was a huge help. I was able to talk to someone else going through the same process I was. Also massage at CNY Healing Arts helped relax my body and put it in the best place it needed to be for both me and baby. We also did acupuncture the day of transfer (before and afer).
Unique Moments:
The hardest part of this journey was going through it without our moms. Rob's mom had the most uplifting spirit I know she would have stood by our ride through our entire journey. And my mom also suffered from infertility. My parents went through infertility treatments in the 80's with multiple failed attempts. They finally choose adoption and adopted me in the early 90's. I wish I could have talked to my mom about her journey as I know she would have understood and could have given some guidance from her own personal experiences.The highest point in our journey was finally seeing 2 lines on a home pregnancy test after our FET. They were the most beautiful lines I had ever seen in my life. I was over the moon and could not wait to show Rob! I had to FaceTime him while we were both at work because I was just completely shocked and overjoyed!
Hope, Inspiration and Advice:
Even when you are ready to throw your hands up and walk away, remember there is a light at the end of the tunnel.. and your rainbow is waiting for you.