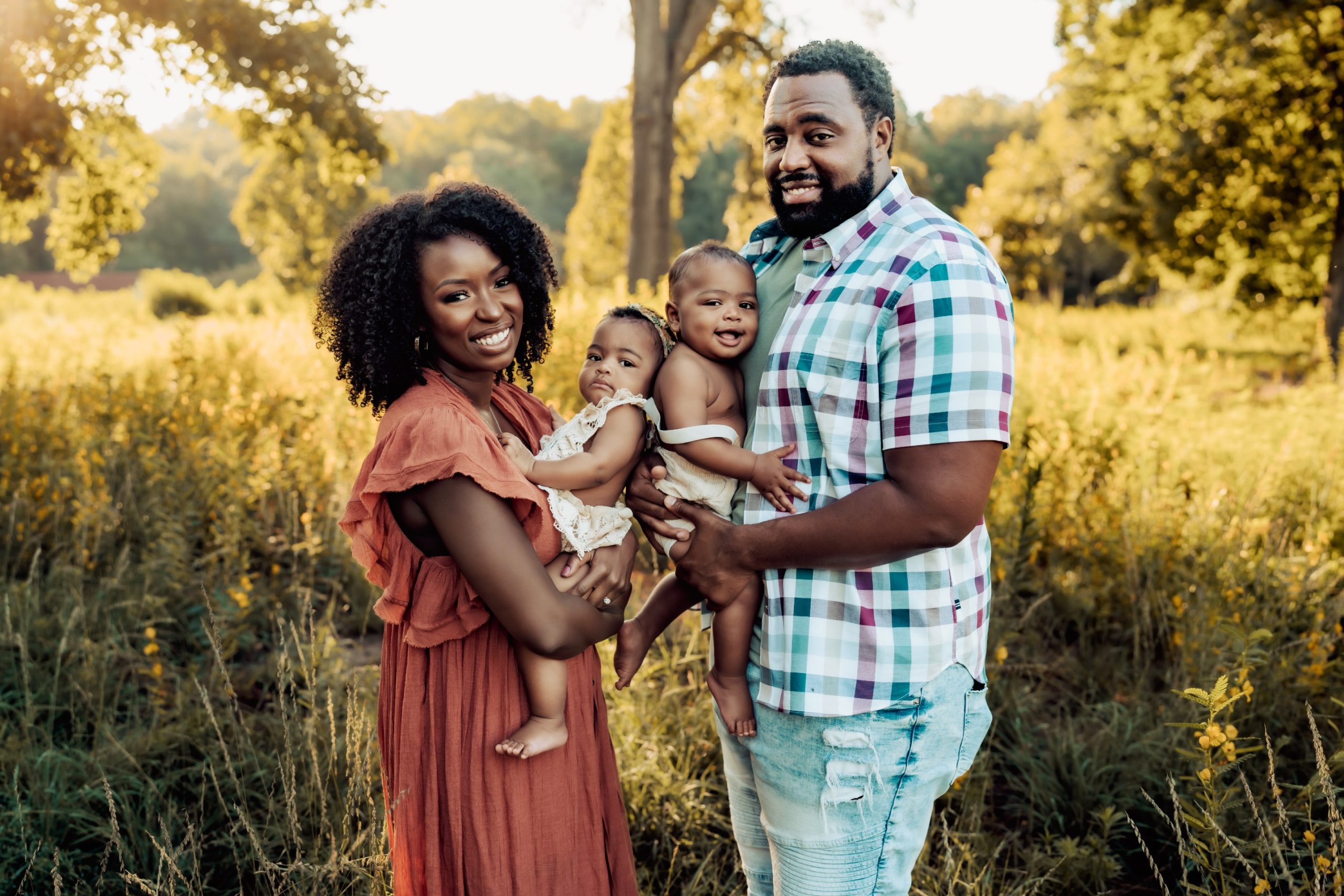 Janelle & Kenneth
Treatment(s)

Frozen embryo transfer (FET)
In vitro Fertilization (IVF)
Location(s)
Physician(s)

Robert Kiltz, MD
David Corley, MD
Janelle & Kenneth's Story:
My husband Ken and I got married in October 2017 after a year and a half of dating. We decided we wanted to have a year to ourselves to just enjoy being newlyweds and get our finances in order to prepare for a family.
Our entire relationship leading up to marriage was long-distance, so we wanted to spend some time just enjoying each other. Honestly, I wanted to wait more than he did, but we compromised and decided we would start trying on our first anniversary. Well, our first anniversary came and went, and there was no baby or pregnancy in sight.
So in 2019, after about 4 months of trying, I scheduled doctor's appointments for both of us to just see if something might be wrong. The doctors didn't give us any information or advice except to come back if we made it to a year and I still wasn't pregnant.
So we gave it a few more months and then I started doing my own research (on google). I do not recommend using google to self-diagnose because you may just further stress yourself out, BUT google did give me one piece of information that my doctors never mentioned. The actual definition of infertility. I did not know that infertility simply means that a couple has been having frequent and consistent unprotected sex for a year and has not gotten pregnant. In my head, we weren't 'trying' until we said 'try and get pregnant now'. But in actuality, we had never really used protection since we got married a year and a half ago. So we were well into one year of trying and hadn't even realized it.
So from there, I immediately contacted our doctors and asked to be referred to a fertility clinic. Over the next few weeks, we each did testing. I, of course, did more than my husband.
They tested my tubes, took ultrasounds of my uterus and did bloodwork to make sure I was ovulating properly. My husband also had his sperm tested. We found out that he has low sperm count and motility. We were devastated by the thought of not being able to have children. We both wanted them so badly.
The recommendation was that we move forward with IVF. The problem was that my husband was in the military at the time, and our insurance did not cover any fertility treatments, especially IVF. And when we spoke with the fertility doctor (not at CNY) about the cost, we were astonished and even more devastated. We had absolutely no way to pay for it.
So we took about a year to just continue trying naturally. We agreed that in June 2020, we would move forward with IVF if nothing happened on its own. At the end of May, I applied for a couple fertility grants, one with CNY Fertility. We still had no idea how we would afford treatment, but I was putting one foot in front of the other, trusting that God would provide a way.
A few weeks later, I got a message from someone at CNY Fertility saying we were the winners of their June 2020 fertility grant. The grant covered an entire round of IVF, plus $2000 towards our medications, and a five-night stay at a local hotel in Syracuse, NY.
I cried as I read the message like fifty times to myself and to my husband. I was so excited. Within days we were discussing the next steps. We scheduled the process to begin the following month in July.
A month later, we got our medications in the mail, and we were doing our baseline appointments. I was very nervous going into it, but after the first couple of days it wasn't so bad.
After about 1 week of meds and doctors appointments we were given the OK to do our trigger shot and scheduled to drive up to Syracuse for our egg retrieval. We were living in Dover, DE, at the time, so it was about a 6 hr drive. We got there one day before the retrieval. We got to the clinic bright and early on the morning of September 7th, 2020. After a quick prayer, my husband and I went our separate ways.
The day before our transfer we did an HCG wash and intralipids. We weren't even 100% sure what it did, but I read that it could help make the transfer more successful. So I was open to anything that would help.
The next day we arrived for our retrieval, which went really well. They got 17 eggs. I believe 13 were mature enough to fertilize, and we ended up with 5 useable embryos. We were also given the good news that we would be able to do a fresh transfer while we were in town just 5 days later.
So we hung out in Syracuse for the next 5 days for our embryo transfer which went really smoothly as well. Our physician even prayed with us after transferring our embryo, which made the experience even better.
9 days later, we had our first blood test, which I was super nervous about, but we got great news just a couple hrs later. My HCG showed that I was pregnant. A couple days later we did another test, and my levels were steadily increasing. We had 3 ultrasounds at 6, 7 and 8 weeks and saw the heartbeat on the screen. Everything was going perfectly... until it wasn't.
A couple weeks into the pregnancy I had two issues I brushed off. First, I noticed there was a big bruise on the side of my leg, but I assumed I must have hurt it while working.
Then one day after photographing a wedding, I couldn't stand on my leg anymore. I was in the bed for three days in pain. But that went away, so I quickly forgot about it. Then, October when I was about 10 weeks, I went on a trip to Chicago for my sister's 30th birthday/engagement party. I started bleeding really heavily and decided to go to the ER. Because of COVID, I wasn't allowed to bring anyone in with me. After hours and hours of waiting and a very awkward ultrasound, a doctor told me she was very sorry but that I was having a miscarriage because the baby had no heartbeat and that the sac measured to be no larger than 7 weeks.
I was immediately hysterical. The doctor was so kind and hugged me, saying she was sorry that I had to go through this in a hospital room alone. I called my husband and told him. I had been through this once before in a previous marriage, so this was traumatic to go through again.
My husband and I decided to wait six months before trying again. I also decided I wanted to do everything I could to heel physically and emotionally, while also proactively trying to decide our next move. So I reached out to a doctor via social media and asked if there was anything else I should do before trying again. She suggested a RPL (repeated pregnancy loss) Panel--blood tests that try to find a cause for repeated miscarriages.
Most doctors wait to suggest this until the 3rd miscarriage, but I did not want to wait to have another one. I checked with my doctor and insurance, and everyone gave me the go-ahead.
The test discovered that I had three different blood clotting disorders that can cause miscarriages, which explained the bruise and pain I had had a couple weeks before the miscarriage.
In March 2021, I scheduled an appointment with a hematologist (not associated with CNY Fertility at all) to get a recommendation. It was a horrible experience with a very nonchalant doctor. I basically diagnosed myself and had to point out things to her on my chart. She agreed with me and gave me a recommendation to be on blood thinners before and during all future pregnancies.
So about a month later in April, I started doing acupuncture which can be helpful with IVF and also prevent miscarriage. I also took my blood thinners and all my other IVF meds and had my baseline appointments.
This time I was also put on an extra medication called Neupogen which was very expensive but used to prevent your immune system from possibly attacking the embryo.
Our second transfer (a FET) was scheduled for May 3rd, 2021. We drove back up to Syracuse the day before and did Intralipids and another HCG wash. We had decided weeks before that we wanted to try and transfer two embryos instead of one. One actually got stuck in the catheter, so they had to reinsert it and do it again. Then we drove back home.
I continued acupuncture and all the medications just as they told me to. I felt pregnancy symptoms a couple days later and decided to test at home a day early. The pregnancy test was positive right away. I was so excited and decided to take my husband to lunch and surprise him with the good news. He was very excited as well. The fun part was telling all of our friends and family. After all the encouragement and prayers, it felt great to celebrate with them as well. We went all out with birth announcements, a big baby shower, a babymoon, maternity photos, and documenting everything you can think of. My pregnancy was one of the best experiences of my life.
Fast forward to January 9th, 2022, we delivered our TWO healthy full-term babies, Harper Janae and Isaiah Kenneth, at 8:30 and 8:32 pm via c-section.
We were surrounded by love, support, and God's grace. We had prayed and hoped to be parents for so long. I am so grateful to God for seeing us through one of the hardest seasons of our lives and giving us our biggest blessings. And thank you, CNY Fertility, for helping our dreams come through.
I also shared the entire experience on my youtube page. 
Photo credit, by the talented Angie Wynne
Favorite Team Member at CNY:
The doctor who performed our first transfer. I believe it was doctor David Corley. He was very personable. He even prayed with us after the transfer. It was awesome!
Helpful resources Janelle & Kenneth found:
I started acupuncture a few weeks before my second transfer and continued throughout my first trimester. I also did intralipids and an HCG wash 2 days before our transfer. And most importantly, I spent a lot of time in prayer, talking to my therapist, and journaling.
The Moment:
There were two really amazing moments: A the first ultrasound when I saw that BOTH of my embryo babies had stuck around and that they both had a healthy heartbeat. After everything we had gone through it felt amazing to get to that point.
The second amazing moment was the day they were born. At almost 39 weeks, my doctor suggested we try an induction. So I spent 4 days laboring in the hospital, trying every medical intervention known to man to induce my labor.
But after finally deciding to break my water and my labor still not progressing, the doctors and I decided to move forward with a C-Section. I was so nervous and disappointed that I could not have them naturally like I had hoped. I thought it was going ruin the entire experience. But boy, was I wrong.
The moment they lifted Harper and Isaiah over the curtain and then handed them to me it was so surreal. After 4 years, it was finally my turn. Our prayers had finally been answered, and I was finally a Mommy. The best moment of my life so far.
Hope, Inspiration and Advice:
I would suggest a couple things.
First really educate yourself on the process. Do research on your own. Ask lots of questions about everything from the procedures to the medications. Do not blindly trust anyone, even doctors. You have to know what is going on with your body because you are your biggest advocate.
Second I would suggest having a really good support group. People who you love. that you can talk to and who can encourage you throughout the journey.
I had a groupchat with like 10 friends who I gave updates to as things were happening. They prayed with me and sent me funny things to keep my spirits up. I also suggest talking to at least one person who has been through infertility/IVF before. I know this seems like it isn't possible because you think you don't know anyone else dealing with infertility. But you would be surprised. And if you don't know anyone there are support groups on social media you can join.
And lastly, pray and really have faith that God will give you a child. I have seen so many women/families go through this process and the ones that get through the hard stuff the best are the ones who aren't relying on just their own strength. My relationship with God is what saw me through.