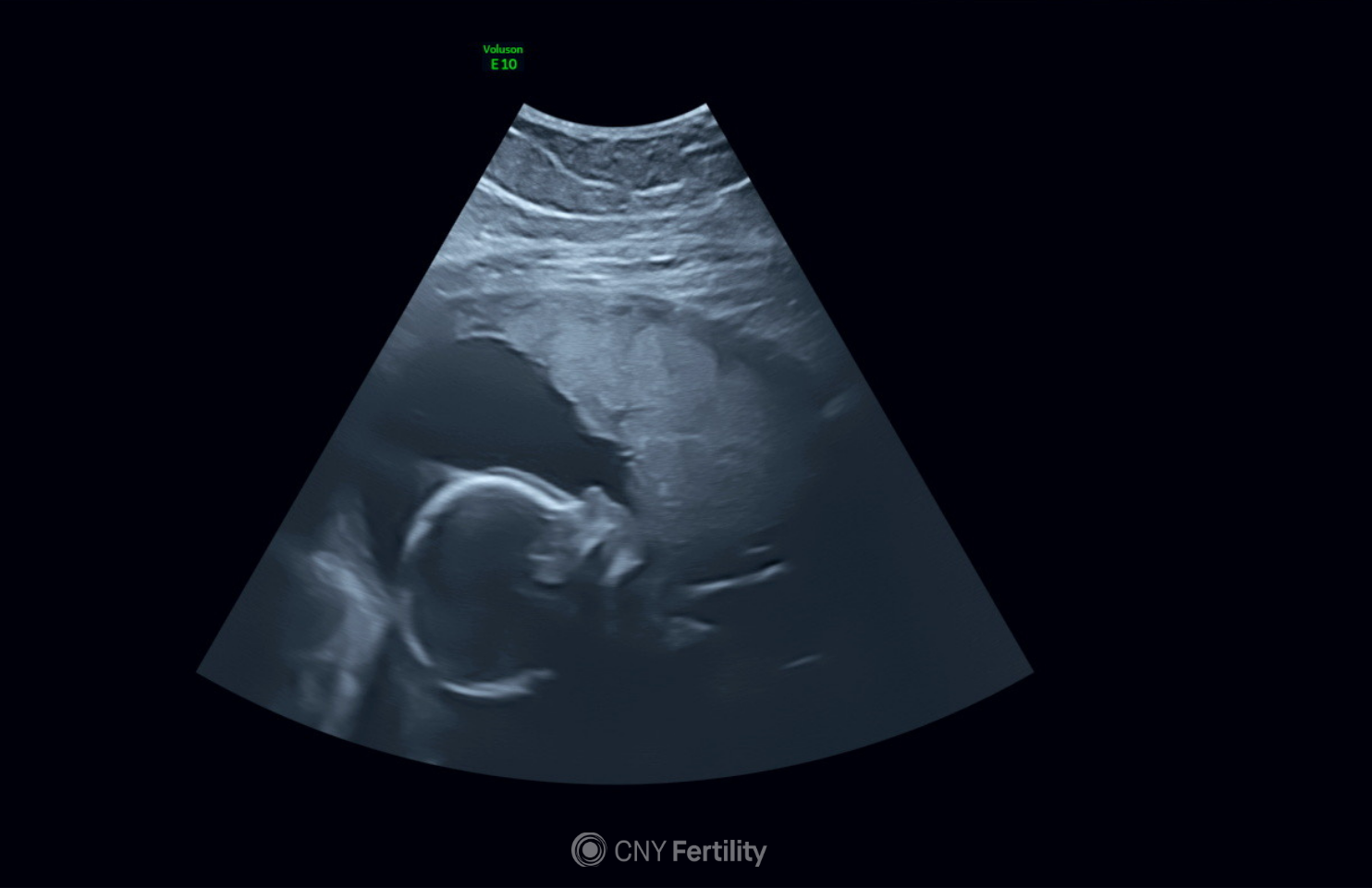 Emily & Alex
Infertility Diagnosis

Male factor
Polycystic ovary syndrome (PCOS)
Recurrent miscarriage
Treatment(s)

Embryo Freezing
Frozen embryo transfer (FET)
In vitro Fertilization (IVF)
Intrauterine insemination (IUI)
Ovulation induction
Timed intercourse
Location(s)
Physician(s)

Robert Kiltz, MD
David Corley, MD
Emily & Alex's Story:
My husband Alex and I met online in early 2015, we quickly became inseparable and got engaged at Disney World New Year's Eve 2016. Right before our wedding in November 2017, I was diagnosed with PCOS, and told that due to my hormone levels, insulin resistance and completely absent cycles, becoming pregnant would likely be a challenge. Alex and I had a very serious conversation as we knew we wanted children, and decided to start trying right after we got married. I was 23, he was 27 so our Dr felt very confident. We took supplements, met with a nutritionist, tracked ovulation (or lack there of), and charted every cycle that passed by. After a year, we had a consult with a local clinic who told us, in the nicest way possible, they wouldn't touch me unless my BMI was below 27. It was a huge blow, especially considering we were meeting with a nutritionist and exercising regularly. We were referred to another clinic where we had more testing done, and found out Alex had low morphology, even though he had been taking supplements for months.
This clinic had us do 7 rounds of timed intercourse with letrozole, before moving to IUI. We completed 9 IUI's with injectables but had no success. We were frustrated, unsure of where to go next and feeling rather defeated. It was then in an online group that I found CNY Fertility. Coming from MN we were worried about traveling, but thanks to the low cost, financing options, and CNY accepting all patients, we knew this was the clinic we needed to try.
We had our consult Feb 6, 2020 and completed all the preconception labs, SA, HSG and SHG, filled out the paperwork, ordered meds and the very next month we were starting stims for retrieval! We were blessed to have Dr Corley retrieve 20 eggs- we used one for a fresh transfer on day 3, and froze the remaining 7 on day 5. When I took that pregnancy test 8 days after our transfer and saw 2 lines, I literally couldn't believe it. I probably took 10 more, still not believing what I was seeing, and not realizing they weren't getting any darker. When I got the call that my third beta had dropped after the first two came in on the low end, Alex and I were devastated. We didn't understand how all of our dreams could come to such an abrupt end, how everything could be so perfect and then come crumbling down. We doubled down and set our first frozen transfer for early May. May 8, 2020 we transferred our 4AA embryo. Getting the call of a positive beta was emotional- exciting and nerve wreaking all at once. When we got the call that our second beta didn't rise properly, and the third beta dropped, we were devastated all over again. We didn't understand why this was happening. But we weren't ready to give up. We took some time to grieve and went for another transfer of a 4AA and a 4AB embryo June 12.
We switched up the protocol and transferred 2 embryos, feeling pretty confident. When we got the call that my beta was above 100, we were trying our best to be level headed- but also excited as it was very promising. When it rose appropriately but didn't double we got nervous. The nurse reassured us this can happen, but I had a bad feeling in my gut. That bad feeling only deepened when it didn't rise properly the next beta, ultimately ending in our third early loss. 3 transfers, 3 early miscarriages, no clear reason, no answers. It felt like our hearts had been ripped out and trampled on, we were truly devastated and were almost numb at that point.
We had 4 embryos left, a 4AA, 4BB, 3BB and 4BC. We were afraid to use our last 4AA and have it end the same way, so we had a follow-up discussion with Dr. Kiltz, who recommended I get a lap/hysteroscopy and make sure nothing was stopping the embryo from developing there. We agreed and set one up, but decided to do one more transfer in the meantime, as the lap appt was scheduled a couple of months out. August 3, 2020 we had our fourth transfer, we did a very aggressive med protocol, all the add ons, transferred our 4BB embryo, and decided from the get-go it wouldn't work. It was the only way we could make it through the 9 day waiting period. We flew home the same day as the transfer, ate comfort food, and I didn't do all the "Tips and tricks" I had in the past. When I got the call that my beta was 63, I was already numb. I knew it was going to be like the other transfers. I couldn't believe it, I could barely even cry because I was so angry at my body and upset.
Two days later a very excited nurse told me my level was now 180. 3 days later 645, then 1580, 2718, 9,162. We saw a gestational sac at our 5-week ultrasound, something we had never made it to before. It was exhilarating and completely terrifying. Each week that passed it felt a little more real, and a little scarier. I knew how hard it would be to lose a baby at each point, my mind wouldn't let me forget it. Alex and I started celebrating small milestones- first ultrasound, seeing her heartbeat, getting the nipt bloodwork done and finding out the gender, the first MFM ultrasound at 14 weeks, the anatomy scan, hitting viability. Now I am 30 weeks pregnant with our sweet girl, and am counting down the days until induction on April 14 (or sooner)! Every day I still have my fears and worries, but I am putting my trust in the Lord that what will be will be. I am so beyond grateful to CNY for allowing us to pursue our dreams, for being there at every step, and for treating us with kindness and dignity.
Favorite Team Member at CNY:
Dr Corley, Dr Luthringer, Dr Kiltz and many of the travel team nurses! Every travel nurse that had to give me bad news for our beta, thank you for being a beacon of light even when delivering awful news. I admire all of your strength to be able to do that ever day, so so much!!
Helpful resources Emily & Alex found:
CNY medications and add on pages!! There is so much information there. Plus CNY facebook and instagram, love the lives!!!
Unique Moments:
With me being 24 at the time of retrieval and my husband 27/28, we were told our chances were high for success with every treatment we tried. We had very high quality embryos, all labs and hormone levels looked good, only my pcos seemed to be in the way. However, our first three transfers all ended in early loss, after 9 IUI's completely failed. Our story isn't a "we tried IVF and our first try worked" unfortunately. But we continued to pursue our dream through with CNY's help, and thank God we didn't give up because our miracle was literally waiting for us at the next transfer. The one we almost didn't do, the one we decided didn't work from the get go, the one we didn't do all the tips and tricks for. I am so glad we didn't give up when things felt impossible.
Hope, Inspiration and Advice:
To those who feel frustrated, defeated, angry, have had setbacks, or losses, or are just feeling overwhelmed by the process- remember that "Even the darkest night will end, and the sun will rise" -Le Mis. I read that quote during every one of our losses when my heart was broken, and it felt like the feeling of sadness would never end. But don't give up. Keep trying, and have faith that something good will come.