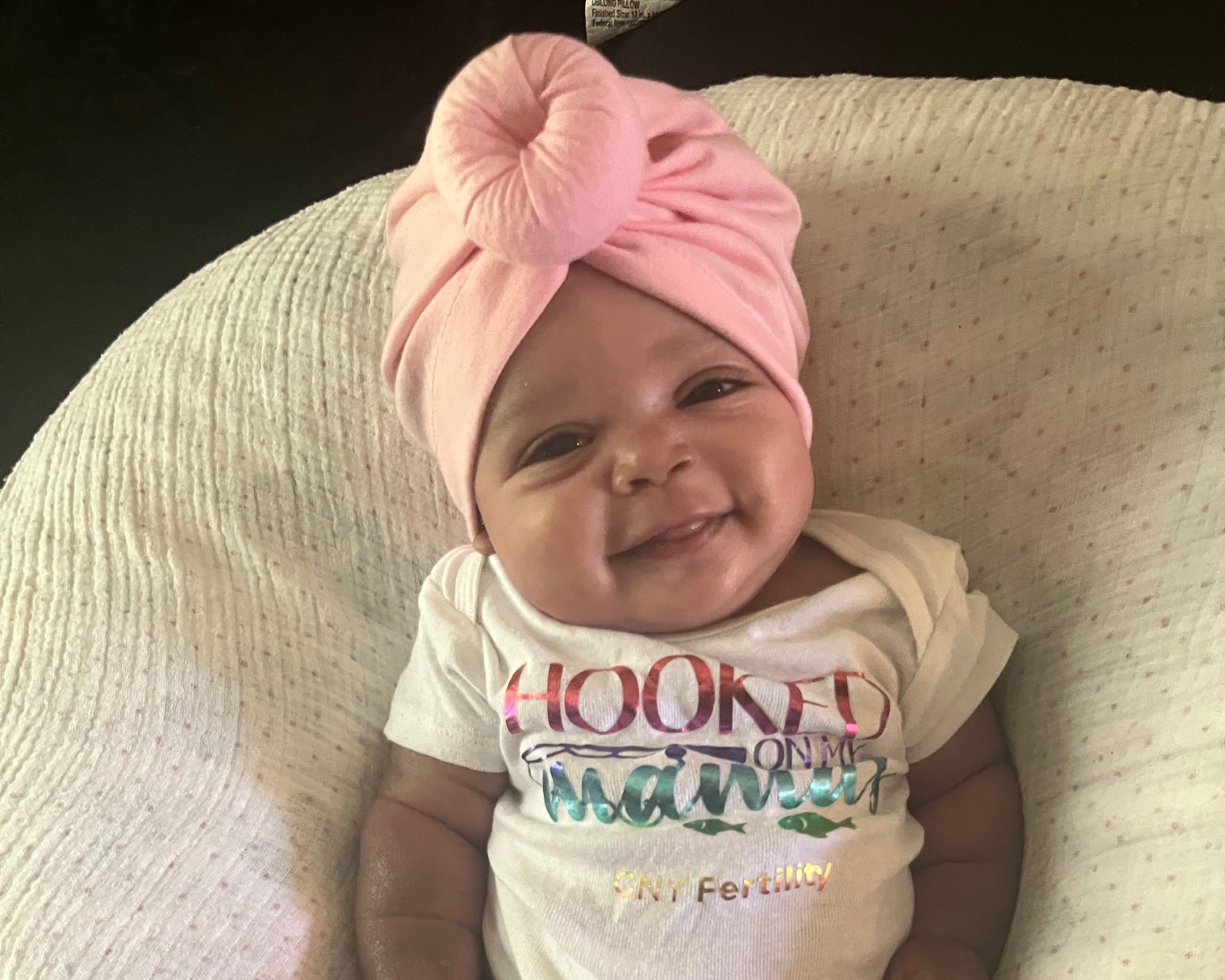 Ebonee & Tristram (pronounced as Tristan)
Treatment(s)

In vitro Fertilization (IVF)
Location(s)
Physician(s)
Ebonee & Tristram (pronounced as Tristan)'s Story:
For as long as I can remember, I've longed to be a mother. But little did my husband and I know,  the fertility journey we'd take to have our little one would be challenging. 
Here's our story: Soon after marriage in 2016, my husband and I started trying for a baby. After two years of trying, we decided it was best for us both to go for testing. The thought of our lineages stopping with us was beyond devastating.
We discovered that IVF was the only option we had for conceiving. Six years later, after much research, referrals, and unsuccessful treatments from other facilities, I found CNY Fertility.
It was with the expertise and support of CNY that we were able to conceive Isley, our miracle baby!
The entire experience was amazing!
September 27th, our embryo transfer day, and October 7th, when we discovered that the IVF procedure was a success, are two days that we'll never forget.
Isley has been such a blessing to us!
Favorite Team Member at CNY:
Dr. Fink shared the most comforting and encouraging words with my husband and I on the day of our embryo transfer.
Helpful resources Ebonee & Tristram (pronounced as Tristan) found:
Journaling
Reading
Low impact workouts
The key is staying occupied to redirect your thoughts away from the situation. Remember, you'll be ok, regardless of the outcome!
The Moment:
October 7, 2022: What I thought was the start of my monthly cycle was really implantation bleeding. I still had to complete the blood pregnancy test that day.
I went to Target immediately afterward with tears in my eyes to buy the essentials: pads, Midol, and sweets because I just knew that the IVF cycle had failed.
But I received "The Call" the next morning, confirming my pregnancy. Words cannot express what my husband and I were feeling…Overjoyed is an understatement. The blood thinners that I was taking at that time were the cause of the more-than-usual implantation bleeding.
Hope, Inspiration and Advice:
Our advice to anyone waiting to conceive is to rebuke all negative thoughts and stay strong. Don't get too caught up in what others say because no one can truly understand what you are going through; it's personal.
Although we wish that we could have found CNY years sooner, we're glad we stuck with out search and it eventually happened. Even if it's just a mustard seed size of faith, hold on to it!