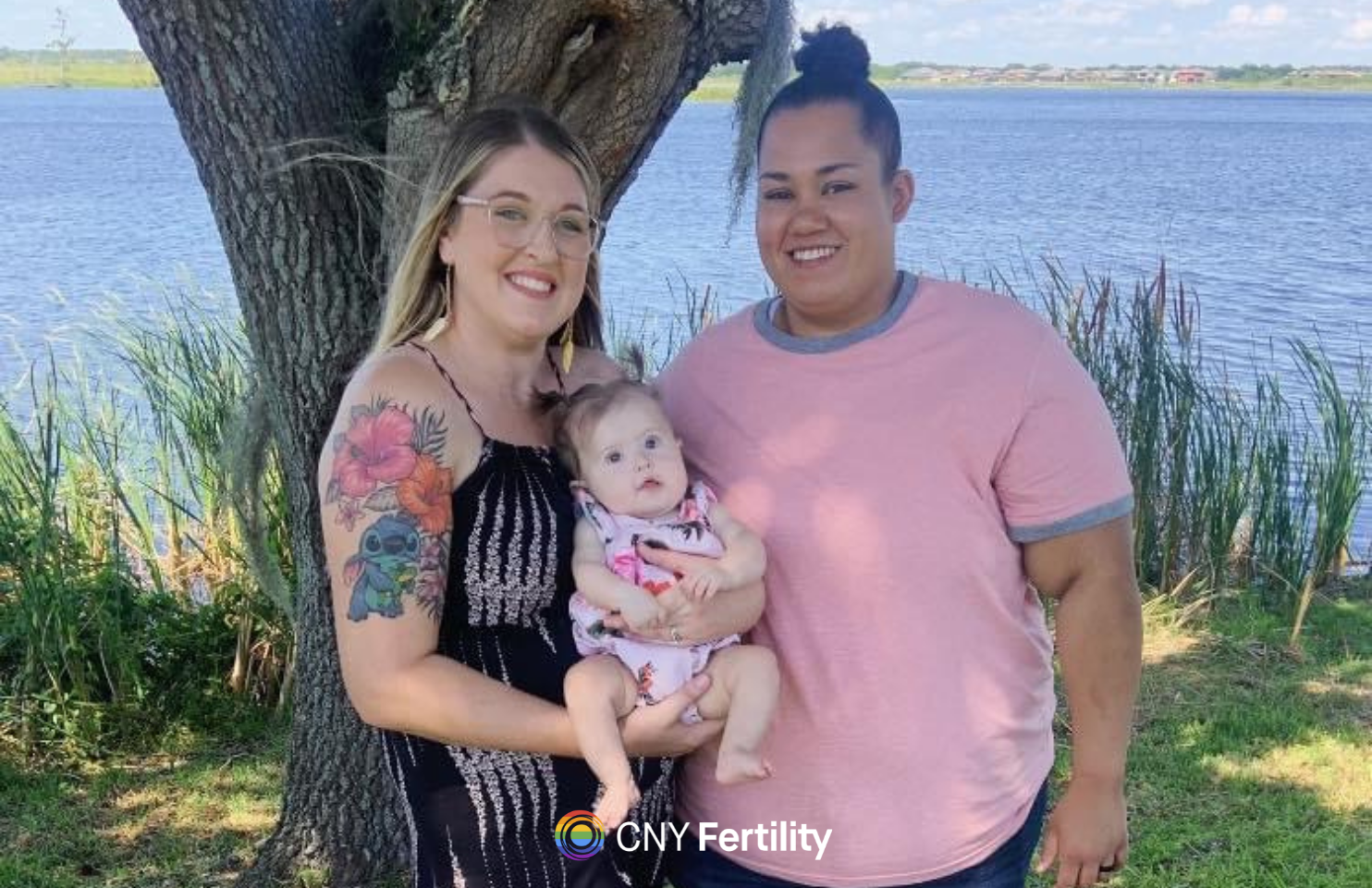 Alisen & Kaitlyn
Infertility Diagnosis

Male factor
Polycystic ovary syndrome (PCOS)
Treatment(s)

Donor sperm
Embryo Freezing
Frozen embryo transfer (FET)
In vitro Fertilization (IVF)
Intrauterine insemination (IUI)
Location(s)
Physician(s)
Alisen & Kaitlyn's Story:
On our very first date, in March 2016, I told Kaitlyn I was going to be licensed to be a foster parent within a matter of months. I became licensed and she stayed in my life as a friend. Many months later we decided to take our relationship to the next level and she decided to become licensed as well. Over the course of 2 years we fostered 5 children under the age of 3. We were asked to adopt both sibling pairs that we cared for. Shortly after, their case plans changed and that was no longer an option for us.
We did not get into fostering with the intent to adopt but when we started loving on these kids the thought of them leaving and going back to unsafe environments broke our hearts. At that point, we decided we wanted to love a child who was not going to leave. We started looking into adoption and inquired about adopting 4 school-aged children. Unfortunately, we were not chosen as a match as an adoptive home for any of them.
At that point, we decided to take a break from fostering and adoption inquiries and focus on fertility treatments. In February 2019 we began trying to conceive through IUI. After 4 failed attempts we knew it was time to begin the process of IVF. We started hormone injections for our egg retrieval in February 2020. Out of 28 eggs retrieved 4 became, 3 day fair grade, embryos. We transferred our best embryo in March 2020 and crossed our fingers that this little embaby would implant! We had a low beta of 8 at our first blood draw. We were told to cautiously optimistic about the pregnancy.
To our surprise our betas kept doubling! We were overjoyed when we found out we were having a baby girl. After a very rough pregnancy, we welcomed our daughter, Journey Reya , into the world in November 2020, more than 4 and a half years after we began our path to parenthood. We are so thankful for CNY fertility and all they have done to make our dreams of becoming Mommies come true. We hope to have more children are looking forward to having a second retrieval in August 2021 to ensure that we have enough embryos to complete our growing family. Thank you, CNY. We are forever grateful for you.
Favorite Team Member at CNY:
Dr.Kiltz called us on a Sunday to check up on me after my retrieval.
Even on a holiday weekend he still hosts his fireside chats.
When we reported my daughters genetic condition to CNY we got a call the next morning from Dr.Kiltz to discuss our concerns.
We are so impressed by the care we have received from him.
Helpful resources Alisen & Kaitlyn found:
The TTC (trying to conceive) community on Instagram has helped me tremendously. I no longer felt alone and I have been able to connect with others going through the same process. It's a great way to connect with others and share resources with each other. We hope to help others going through IVF by being open about our IVF journey online.
Unique Moments:
What's different about our Journey is we started fostering and trying to adopt before starting fertility treatments when usually it's the other way around.
Hope, Inspiration and Advice:
Be patient, good things take time. Connect with others who are also on the same journey.