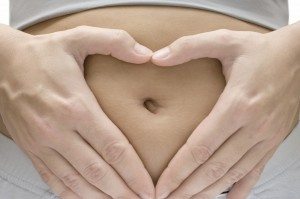 In observance of September being PCOS (Polycystic Ovary Syndrome) Awareness Month, we've gathered some great resources for our clients adapting a PCOS lifestyle.  With PCOS affecting an estimated 5-10% of the female population, it becoming more readily diagnosed and treated at younger ages.  This hormone disorder, often requiring treatment for those trying to conceive, also necessitates general lifestyle changes to improve health and symptoms.
Dr. Kiltz talks about PCOS in this video.
In regards to fertility treatment, women with PCOS tend to have two main challenges.  First, women with PCOS tend to not ovulate on their own.  Second, women with PCOS are more prone to having a Luteal Phase Defect, meaning they do not produce enough Progesterone on their own.  Luckily, we have many different medication protocols to help compensate for these two fertility challenges, and other challenges that might present themselves along the way.
To best support your fertility and overall health with PCOS, a diet low in carbohydrates and sugars has shown to be beneficial in counteracting the side effects of insulin resistance in many women with PCOS.  This means that by limiting your carbohydrate and sugar intake, while maintaining a balanced diet, you will likely find relief from many of the challenging symptoms of PCOS such as; difficulty losing weight, fatigue, acne, and high blood sugar.
A diagnosis of PCOS can be overwhelming, especially when considering that this is a condition that will require awareness and care after your days of trying to conceive.  However, once you have educated yourself on the condition, and surrounded yourself with a supportive community of healthcare providers and peers, we're confident that you will find the lifestyle changes will help you feel healthier, more energized, and more confident.
For your fertility treatment needs, we recommend that you stay in close contact with our clinical staff.  They will guide you on this journey by making medication and treatment recommendations to optimize your fertility and minimize PCOS symptoms.
Diet and Nutrition
We recommend that you speak with our acupuncturists for diet and nutrition recommendations.  They will be able to work with you and suggest specific foods to avoid or incorporate to optimize your fertility.  They can also make supplement recommendations. You can reach our acupuncturists at CNY Healing Arts.  We also posted a great article a few years ago with great dietary recommendations for those coping with PCOS.
Fitness
Exercise and gentle movement have numerous benefits for both PCOS and health in general.  We are happy to offer Free Yoga for Fertility at all of our locations to encourage you to explore this fantastic way to get blood flowing and your muscles moving and stretching.  Be sure to check our CNY Healing Arts Calendars for our full yoga schedule.
Peer Support
Our Private Facebook Support Group has many members who are coping with PCOS.  Many of our Circle of Hope Support Group participants have PCOS, and we also have a PCOS specific support group at our Albany location.  For our monthly support group schedules, please visit our CNY Fertility Calendars.  If you are interested in joining our Facebook Support Group, please message Lisa Stack within the Patient Portal.

https://www.cnyfertility.com/wp-content/uploads/2019/05/cny_logo.png
0
0
lstack
https://www.cnyfertility.com/wp-content/uploads/2019/05/cny_logo.png
lstack
2014-09-19 07:48:50
2014-09-19 07:48:50
PCOS Awareness Month: September 2014