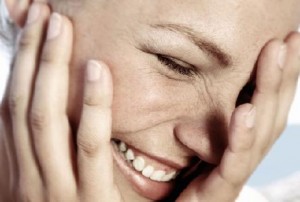 Did you know? A 1993 study by Dr. Alice D. Domar and co-authors reported that the anxiety and depression of infertile women equaled that of women with chronic conditions like cancer, HIV, and chronic pain.
Although we don't know with any certainty whether stress can actually cause infertility, we do know that the treatment of stress often improves pregnancy rates. Basically, the better your physical and mental shape, the better your chances of getting pregnant. And what's a more effective way to reduce stress than to simply laugh.
Laughter is a powerful remedy for stress, pain, and conflict. More importantly, laughter makes you feel good! It helps you keep a positive view on things even through the worst struggles. In addition, laughter can:
Relieve physical tension and stress
Boost the immune system by increasing immune cells and infection-fighting antibodies
Decrease stress hormones
Trigger the release of endorphins (the body's natural feel-good chemicals)
Protect the heart and prevent heart disease by increasing blood flow and improving the function of blood vessels
The benefits of laughter extend beyond the physical body. When we laugh with one another, a positive bond is formed. This bond acts as a buffer against stress, disagreements, and disappointments within a relationship. Among other advantages, shared humor can relieve stress, balance your mood, strengthen your relationships, enhance teamwork, ease anxiety and fear, promote group bonding, attract others to you and add zest to your life.
If you feel like you're stuck in a rut, try creating opportunities for yourself to laugh. In the short term, do something silly, watch a funny movie or TV show, play with a friendly pet, or read the funny pages. In the long term, seek out light-hearted people, host a weekly game night with friends, share a joke each day, or make time for fun activities like bowling, miniature golf, or karaoke.
https://www.cnyfertility.com/wp-content/uploads/2018/06/CNY-BLACK.png
0
0
editor
https://www.cnyfertility.com/wp-content/uploads/2018/06/CNY-BLACK.png
editor
2011-03-30 11:55:34
2011-03-30 11:55:34
Laughter: The best medicine for infertility