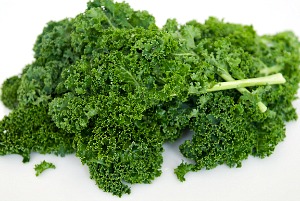 Kale is a member of the cruciferous family and is one of the leaders when it comes to nutritious veggies. It is packed with antioxidants and a mega-load of vitamins and nutrients. Kale is a phytonutrient which is known to promote health by enhancing the immune system, repairing damage to and protecting cells, and removing harmful products from the body, and reducing inflammation. This makes kale a real champ when providing a healthy diet for fertility, especially for those with PCOS or endometriosis.
It is best when purchased organically. Look for bunches that have dark, small to medium leaves on them. Peel the leaves from the spine/stalk. Soak and rinse thoroughly before preparing.
Kale is chocked full of Vitamin A, and is also one of the best plant-based sources of calcium, which is terrific if you're lactose intolerant because calcium plays a role in egg maturation and follicular development.
How to eat it? It is delicious just sautéed in a fry pan with a drizzle of olive oil and a little garlic, or add some thinly sliced red peppers, or any other vegetable(s) to the mix.
Here's a great recipe for Kale-Stuffed Chicken which combines the Vitamin B power in the chicken (which is good for hormonal balance) with the awesomeness of the kale!
Ingredients:
Whole roasting chicken (inside contents removed)
Salt
Pepper
Garlic powder
Paprika
Red Cayenne Pepper, if desired
1 bunch of kale
1/2-2 tsp. of peach preserve (regular or sugar-free)
Olive oil
1/2 small red onion, thinly sliced
Directions:
Place the roasting chicken in a large, shallow roasting pan. Take your peeled and rinsed kale, place in bowl, and drizzle olive oil over (enough to slightly coat). Add red onions and dash of salt & pepper, peach preserve and mix well; stuff into chicken (leftover mix can be added around the outside of the chicken). Sprinkle the top of the chicken with salt, pepper, garlic powder, paprika, and if desired red cayenne pepper. Bake in a 350 oven for 1 ½ hours or until golden brown.
Request Consultation or Appointment
If you are a new patient and would like an initial fertility consultation, click here to request a phone or in-office visit, or call us toll free with your questions at 800-539-9870.
https://www.cnyfertility.com/wp-content/uploads/2018/06/CNY-BLACK.png
0
0
editor
https://www.cnyfertility.com/wp-content/uploads/2018/06/CNY-BLACK.png
editor
2012-10-29 08:00:57
2012-10-29 08:00:57
Kale - A Fertility Champ