IVF After 40 years of age – 2010 update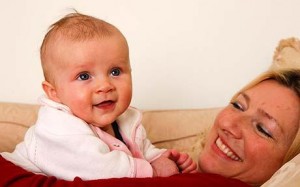 This information is provided by CNY Fertility Center, where patients are accepted for IVF with no precondition or age cutoff. We offer patients who are in the older age group comprehensive information about their options to start, or add to their family. CNY Fertility Center provides quality, low-cost infertility treatments and IVF care with locations Rochester, Syracuse and Albany New York.
More than half of women over 40 years of age have difficulty conceiving, while others are still fertile. Patients who are over 40 and infertile are seen in IVF centers and tend to have lower success rates with treatments (using their own eggs) than younger women do.
Many women are delaying childbearing until later in life. Until an individual or couple tries to conceive, they don't know if they fall until the fertile or unfertile category. Laboratory predictors of outcomes like FSH levels, follicle counts, and other ovarian reserve indicators are not absolute in dictating treatment success or failure. Most women over 40 have one or more indicators of a potentially low prognosis.
Two recent papers have reported detailed information for specific age categories. From Egypt, over 200 women aged 40 and above were evaluated for IVF outcomes. As women increased in age, their treatment cycles were more likely to be canceled due to a lack of ovarian response. Miscarriages were 40-67% of clinical pregnancies. The live birth rate for those who made it to egg retrieval was 11% in 40 year olds, 7.5% in 41, 5% age 42, 2% at age 43, and under 1% at age 44 and 45. (Hourvitz et al )
A study in Israel evaluated 842 patients ages 42 plus, between 1998 and 2006. Clinical pregnancy rates per cycle were 7.7, 5.4 and 1.9% for 42, 43 and 44 years old respectively. Many of these pregnancies resulted in miscarriages. Only one IVF cycle in patients aged 44 years resulted in delivery. None of the 54 cycles performed in women of 45 years or older resulted in a pregnancy. A marked decline in clinical pregnancy and delivery rates, accompanied by an increase in spontaneous abortion rates, was found in patients >42 years old (Serour et al).
Results at CNY for 2007 were 12.5% live births per egg retrieval in the 41-42 year group and no deliveries in the 43 and 44 year olds in that year. In 2008, 8% of 41 and 42 year olds who had retrieval had a baby. Above age 42, about 2% of women succeeded in having a birth.
It is often a challenging decision whether or not to use donor eggs or sperm to create a family. Many people desire a child who is genetically related to both parents. Men see a much lower decline in fertility with age, and technologies including IVF and ICSI can increase pregnancy rates for couples where the man has a severely low sperm count.
When maternal age is an issue, it is helpful to remember that the statistics apply to a group of patients. They are general predictors for 100 women. No one can say what an individual's results will be. CNY Fertility Center helps couples make every reasonable effort to create a biological child, but also offers patients other options for their family building including donor eggs, donor sperm and donor embryos.
It is important to recognize that the use of donor eggs is a high success back up plan. This alternative has delivery rates close to 50%. Many couples where the woman's age is over 40 will initially try an IVF cycle using their own eggs. Success can come with persistence and positive mental attitude. Among those who are unsuccessful with their own eggs, many move on to using donor eggs for the baby of their dreams. Using a combination of options is often the best plan.
References
A Hourvitz1,2, MD Ronit Machtinger2, MD Ettie Maman, MD Micha Baum, MD, PROF Jehoshua Dor, MD Jacob Levron Assisted reproduction in women over 40 years of age: how old is too old?
Reproductive BioMedicine Online 2009 http://www.rbmonline.com/Article/3872
[e-pub ahead of print on 24 August 2009]
Serour, G et al Analysis of IVF in … women aged 40 years and above. Fertil Steril In press 2010