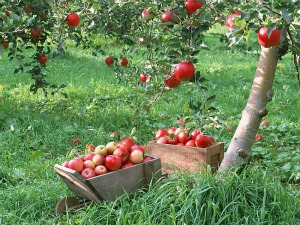 Nothing says fall like a trip to the local apple orchard! Seeing the breathtaking landscape at the orchard and on the drive there, the smell of the fragrant apples in the air, walking through the orchard, seeing the beauty of the apple trees and the abundance of fruit that just one tree offers us, and tasting the delicious, crisp and juicy fruit—it's all such an experience. It's a peaceful activity that is good for your mind and body on the journey to conception.
Here are some apple-licious facts:
• Apples are a low-calorie, complex carbohydrate snack.
• They are low in fat and sodium.
• Good source of soluble and insoluble fiber (the pectin in apples are excellent for removing toxins from the body).
• Great source of antioxidants and phyto-nutrients (they contain Quercetin, which helps to boost the immune system).
• Contain the following vitamins: Vitamin A, Vitamin C, Folate, Vitamin E, Vitamin K, Thiamin, Riboflavin, and Vitamin B6.
• Supplies the following minerals: potassium, calcium, phosphorus, magnesium, manganese, iron, copper, and zinc.
• And are totally portable!
Here is a great recipe, created by Oscar Tschirky from the famous Waldorf Astoria, which combines the goodness of apples along with some extra nutrition of iron-rich raisins, omega-3 rich walnuts, and celery (good source of fiber as well as B6 which helps to balance hormones):
Waldorf salad:
Ingredients
1 apple, cored and chopped
½ cup chopped, slightly toasted walnuts
½ cup celery, thinly sliced
¼ cup of raisins (or ½ cup red seedless grapes, sliced)
3 Tbsp. mayonnaise (or if you prefer, vanilla yogurt)
1 Tbsp. fresh lemon juice
Pepper
Lettuce
Directions
In a medium sized bowl, whisk together the mayonnaise (or yogurt) and the lemon juice. Mix in the apple, celery, raisins, and walnuts. Serve on a bed of fresh lettuce and pepper to taste. Serves 2.
Experience our Interactive Fertility Support Webinar: Nutrition for PCOS from the comfort of your own home on Thursday, October 18th 6:30-7:30pm! This interactive virtual support group experience, where Lisa and Heather Neely, RD will cover the importance of nutrition while coping with PCOS. You will have the opportunity to ask questions and give feedback. Please email Lisa with any questions: Lstack@cnyfertility.com. To register, please visit the following link: https://www1.gotomeeting.com/register/580137073
Syracuse: Fertile Foods Workshop-Saturday, October 27th 1:00-2:30 – No Fee, please RSVP to 315.671.5755.
Albany: Fertile Foods Nutrition Workshop-Saturday, October 13th 11:00am-12:00pm – No Fee, please RSVP to 518.724.5750.
Rochester: Fertile Foods and Supplements-Tuesday, October 23rd 6:00-8:00pm – No Fee, RSVP required at 585.244.1280 ext. 2.
Request Consultation or Appointment
If you are a new patient and would like an initial fertility consultation, click here to request a phone or in-office visit, or call us toll free with your questions at 800-539-9870.
https://www.cnyfertility.com/wp-content/uploads/2018/06/CNY-BLACK.png
0
0
editor
https://www.cnyfertility.com/wp-content/uploads/2018/06/CNY-BLACK.png
editor
2012-09-27 08:41:29
2012-09-27 08:41:29
It's Apple Time!