Infertility Journey: A Husband's Story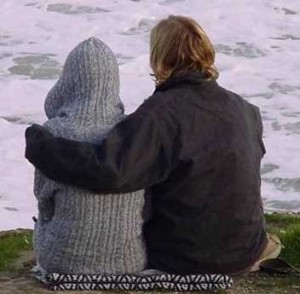 The article below is reprinted with permission from the author, Andy Thornhill. He shares his heartfelt story as the husband on the journey to fertility. You can read more at his blog here The Tao of Pigpen, he is also the author of The Longest Love Letter.
For those who read this please understand that this is one man's opinion. I have been down a long road with my wife dealing with infertility. Our road was not as long as some and did not have the same hardships as some but we were blessed to have a happy ending. But much like a snowflake every couples dealings with infertility is different.
At the core of some men is the innate need to protect and if possible heal the ones we love. This can be considered somewhat sexist but it is no means intended to be. I think it is as true as the need for some women to be motherly and protective of the ones they love. When my wife and I were dealing with fertility issues I wanted to make it better. I wanted to keep her eyes dry and her heart free of pain. When we miscarried I felt helpless. There was nothing I could say and even less I could do to make her feel better. This was a personal low in my life. I felt as though I were useless to her and in some ways not a worthy husband.
I will never forget our first appointment with a fertility doctor. I had no reason to ever be in the room for a gynecological visit and I was not ready for what I saw. The doctor came into the room and he was a very good looking young man. He was asking my wife questions and asking her to prepare to remove her clothes and prepare for a very intimate but typical check up of her undercarriage. It suddenly hit me that she was about to be medically violated right before my eyes. I was very uncomfortable but as the doctor explained what he was doing and seeing I became engrossed in the process my wife and I were beginning. I also began to see the inequity of what women deal with and men deal with while enduring the infertility process. Men have it relatively easy. In most cases the only thing we have to do is the same thing we have done ever since we discovered our fathers Playboy collection and had funny feelings while perusing the pages.
We tried IUI several times without a glimpse of success. My wife always seemed to be optimistic. I was an awe of her ability to be crushed but find the strength to keep trying. I wanted several times to convince her to take the easy way out and just give up. It was not that I did not want a child but because I did not want my wife to beat herself up over our continued failure to have a baby. With every fertility cycle that failed my wife would find more undocumented fault in herself. I love my wife beyond measure and this maddened me. I found the best thing to do was talk when she was ready but make it clear we would talk when she was ready. If that day never came I would gently guide her to opening up because keeping things in while going through the infertility process can be the death knell of a marriage. I was not about to have a marriage in jeopardy and she opened up. Communication and love are key to making it work. You can get through anything with that combination.
Our second IVF lead to the birth of my daughter. My wife was on bed rest nearly the entire nine months. We thought at least twice we had lost out daughter. We did not believe she was going to be a reality until that first time she squeezed my right index finger and even then there was inequity. The delivery was rough and my wife had a problem with the meds that were given to her. She had really bad shakes and could not hold Emma, our little girl. Emma was born at 5:18 PM and I would not let anyone in the family hold her until her Mommy had the chance first. My wife had fought hard for five years to have a child and when she finally arrived she could not hold her but I could….this was unfair. Five hours after Emma was born my wife got to hold her and that opened up the flood gates to the rest of the family. I will never forget the first time she held her little girl.
Never give up on your fight and never beat your self up. If you are the husband listen and love. It is more important to know when to listen sometimes than when to talk. Never forget others have had this journey and there is always an ear out there willing to listen if you seek it out. I wish all who take this journey the best. Love each other and never say never.