At CNY one of the most common questions, people ask on a daily basis is what they can do to improve their fertility "naturally." The answer is the same whether that is for intercourse or in preparation for treatment.  The short graphic below sums up just about everything we recommend individuals take and remember that sperm make 50% of any embryos genetics and also play a part 50% of all cases of infertility so it is important that men, as well as women, consider the following to improve their odds of a successful pregnancy. The following should be done for 30-90 days prior to any treatment when possible.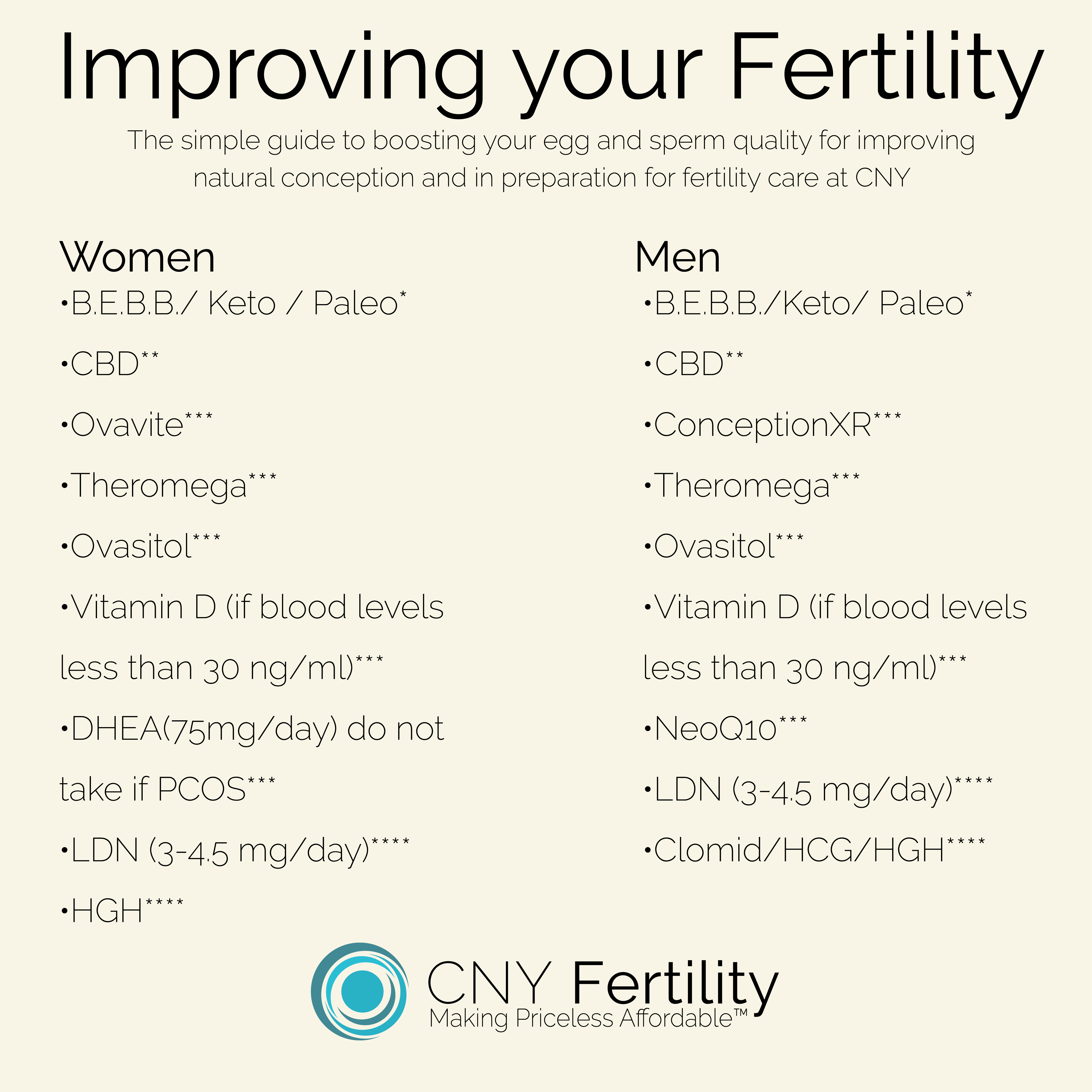 For those of you who don't like easy to follow charts, here's a nice paragraph for you.  For women, we recommend a high-fat low carbohydrate diet (B.E.B.B., Keto, or paleo if the other two are not suitable for you), CBD, Ovavite, Theromega, Ovasitol, Vitamin D (if lower than 30), DHEA (unless you have PCOS). For men, we recommend a high fat low carbohydrate diet, CBD, conception XR, theromega, Ovasitol, Vitamin D (if lower than 30), and NeoQ10. You can buy the CBD here at shop.cnyfertility.com and the others for a slight discount here: https://services.theralogix.com/landing/cnyfertility/ with the PRC: 113205
*B.E.B.B. Is Dr. Kiltz's Keto Bacon, Eggs, Butter Beef – the high-fat ultra low carb diet for optimal fertility enhancement (oh and did we mention Dr. Kiltz's Ice cream is A OKAY!). For information on a more moderate keto google Maria Emmerich or buy one of her books on Amazon.
**CBD is a natural anti-inflammatory supplement that CNY has been pioneering to help improve fertility outcomes. Full spectrum, with less than .3% TCH, but loaded with over a dozen cannabinoids that synergistically provide the greatest effect is best.  Those subject to random drug tests for work should opt for THC free CBD isolates.  Buy yours at shop.cnyfertility.com.
***For more information on fertility supplements visit: cnyfertility.com/nutritional-supplements. To order your theralogix supplements head to services.theralogix.com/landing/cnyfertility and use PRC code 113205
****LDN, HGH, HCG and Clomid are prescription medications. LDN reduces inflammation, clomid, HCG, and HGH improve egg/sperm quality. Please contact us through your patient portal to have these medications ordered for you in advance of treatment.
https://www.cnyfertility.com/wp-content/uploads/2019/05/cny_logo.png
0
0
CNY Fertility Team
https://www.cnyfertility.com/wp-content/uploads/2019/05/cny_logo.png
CNY Fertility Team
2018-12-26 21:47:25
2019-02-15 19:14:49
Improving Your Fertility Naturally