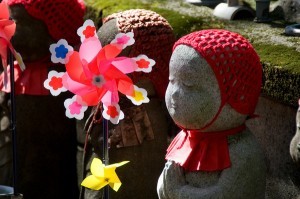 This article originally appeared October 2011.  We hope that with warmer weather arriving, revisiting this article will help stir a few ideas for honoring any miscarriages that occurred over the winter.
Tiny statues greet visitors to many Buddhist temples around Japan.  It is common to see small hats adorning the little ones, or even toys scattered at their feet.  You may even witness a woman holding a solemn vigil.  These statues are public memorials for children who pass away before their parents, especially those lost during pregnancy.  Once a miscarriage or pregnancy loss has occurred the grieving family will place a hat, scarf, or memorial item on the Jizo statue in honor of the lost life.  This is a beautiful public display of pregnancy loss. The gift to Jizo honors both the life that lasted for only a brief time, and the grief that remains.  This is a moment where it is OK to publicly grieve a life that was invisible to the outside world.
Unfortunately, we really don't have a practice here in our culture that openly welcomes the grief of a family after pregnancy loss.  Although there may not be a public venue for your sadness, it is important to create your own memorial.  There are many ways to honor the life that you nurtured for only a brief time, and I hope that you are able to find a way that fits your family best.  Here are a few suggestions, that have brought many grieving families great comfort:
1.  Ask a member of your religious community to hold a funeral mass or memorial service.
2.  Designate a place in your home for a memorial piece.  Some like to find a piece of artwork that calls to them, or create one of your own.
3.  Name the child, so that you can refer to him/her easily in your conversation.  This also acknowledges the personhood that you had attached to that brief and precious life.
4.  Have a memorial piece of jewelery made that you can wear.
5.  Plant a tree or beautiful flowers in honor of the life that you lost.

We would like to invite you to connect with our great community of support.  Our Circle of Hope Support Group sessions, closed Facebook Support Groups, and virtual support sessions are all opportunities for you to share your story and hear from others who have had similar experiences.   Together, we can process the losses we have faced, and take that first step to healing.
For all of our fertility support offerings, please check our CNY Fertility and CNY Healing Arts calendars.  Please let us know if you have any questions, and we look forward to hearing from you during these sessions!
One last note, did you know that we started  new Private Facebook Fertility and Pregnancy Groups for current clients?  Here, you can find a safe and secure space to share with other women and men facing similar challenges.  You can get immediate support and feedback!  If you are interested in joining, please message Lisa Stack within the Patient Portal.

If you are interested in a more private one-on-one support situation, Lisa Stack is our CNY Fertility Center Support Coordinator, she offers her services as a lay support person and can be contacted by email at lstack@cnyfertility.com if you are not yet a client or via the Patient Portal if you are a current client.

https://www.cnyfertility.com/wp-content/uploads/2019/05/cny_logo.png
0
0
contentadmin
https://www.cnyfertility.com/wp-content/uploads/2019/05/cny_logo.png
contentadmin
2015-04-13 12:48:01
2015-04-13 12:48:01
Honoring Loss in the Spring