Have You Made Your Fertility Vision Board Yet?
Have You Made Your Fertility Vision Board Yet?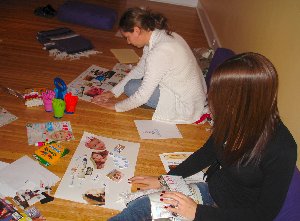 On October 28th, 2009 our Rochester CNY Fertility Center held a vision board workshop.  Throughout the evening, giggles could be heard from the Yoga room. 
Creating your own vision board can be a lot of fun, it also has a very serious meaning.  A vision board is a collection of words, phrases and pictures that collectively express your vision for your future.  As little children, we might have created a vision board with a fire truck or ballet slippers, a dream of what we wanted to become as an adult.  The Fertility Vision Board is usually specific to your fertility journey.  Many of these boards contained pictures of babies and large pregnant abdomens along with words and pictures depicting relaxation and family themes.
As couples journey through the fertility process, it's so easy to get caught up in the moment.  Will my follicles grow, how many eggs will fertilize, will this cycle be the one?  The vision board helps to remind you of the ultimate goal.  When placed somewhere where it can be seen and even touched each day, it will be a reminder of your ultimate goal or creating or adding to your family. There will be bumps in the road and even disappointments along the way but what is most important is the goal to create a family.
Lovingly patting the picture of a slumbering infant on your board can bring positive energy into your body.  That is the most important thing to remember " I can have a child".  You don't always know when or how a child will come into your life but with persistence, most of you will get that addition to your family you so dearly desire.
At our workshop, we discussed a theme from the Don Migel Ruiz book of the month "The Voice of Knowledge".  When you are told a lie you begin to believe it.  One example is a small child struggling to learn addition.  If he is told by a teacher or classmate "You must be stupid as this is so easy to learn," he will begin to believe he can't learn to add and may even give up trying.  When a woman starts to think she will never get pregnant she begins to believe she won't be successful.  Those negative thoughts can add stress and can even lead to her giving up on her dream.
The vision board is one way to keep those positive thoughts in the forefront of your mind every day and keeping a positive attitude is what will help you as you proceed with this amazing, confusing, challenging and wonderful journey toward Parenthood.
Please join us in the future at one of our vision board workshops or make one yourself at home.  Remember there is no right way to make the board, it is yours and however you create it is right for you.
Jodie Brinthaupt RN,CNP
Certified Nurse Practitioner
CNY Fertility Center
2244 East Ave, Rochester, NY
585-244-1280
Article Sources