Our Staff at CNY Fertility Center in Syracuse, Rochester and Albany would like to wish you all a happy, healthy and blessed Thanksgiving!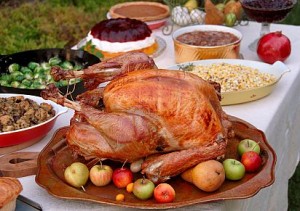 Here's a great reason to dive into that Thanksgiving turkey this year—it actually lifts your spirits among other things! There are a number of changes that occur inside of our bodies during this time of year: the late fall/early winter months. First off, we tend to crave starchy foods and sweets during this season and the holiday advertisements seem to be all about cookies, desserts, etc. which can make it even more challenging to avoid them. Secondly, we've changed our clocks, and have lost an hour of daylight.  Since we're not out in the sun as much, we don't have as much Vitamin D in our system.  Vitamin D deficiencies lower our serotonin levels in our brains.  Serotonin is a neurotransmitter which is responsible for that calm, happy feeling.
Turkey contains L-tryptophan, which is an essential amino acid that converts to serotonin in the body.  Eating simple carbohydrates like potatoes, pies, and cookies increase insulin and provide us with an initial energy rush followed by a "crash and burn" feeling.  These highs and lows can lead to insulin resistance.  So, don't hold back on the turkey this Thanksgiving. Snacking on a few pieces before indulging in the entire holiday meal may help to create a feeling of fullness, and cut back on the craving for starches and sweets.
Turkey also contains the Vitamin B.  B6, in particular, is very important in a diet for fertility because it helps regulate your hormones.  A diet that includes Vitamin B6 can regulate menstrual cycles, achieve proper progesterone balances, as well as facilitates egg and sperm development.
Another terrific way of boosting serotonin levels is through exercise.  Take a relaxing, meditative walk to work off that holiday meal during daylight hours, will boost your mood and your spirits.  In addition, CNY Healing Arts Centers offer free Yoga for Fertility at all three of our locations; click here to see schedule!  Have a happy Thanksgiving!

Syracuse:
195 Intrepid Lane, Syracuse, NY 13205
315.671.5755
Albany:
38A Old Sparrowbush Road, Latham, NY 12110
518.724.5750
Rochester:
2244 East Avenue, Rochester, NY 14610
585.244.1280 ext. 2
https://www.cnyfertility.com/wp-content/uploads/2018/06/CNY-BLACK.png
0
0
editor
https://www.cnyfertility.com/wp-content/uploads/2018/06/CNY-BLACK.png
editor
2012-11-21 09:12:11
2012-11-21 09:12:11
Have a Blessed Thanksgiving: Turkey and Your Fertility!