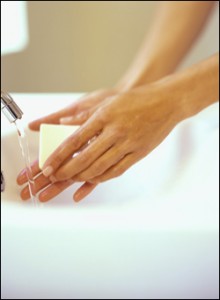 We would like to share with you some information and suggestions regarding the H1N1 Flu, commonly known as the Swine Flu.  All of these suggestions could also be applied for the regular flu that circulates annually.  Although it is easy to become alarmed with the increased news coverage of this impending flu season, we urge you to please be cautious, but not fearful.  There are many precautions you can take to stay healthy this winter, and protect those around you.
Wash your hands! Continuous and thorough hand washing is the best preventative.  Be sure to especially wash after contact with others, and high traffic areas (handrails, bathrooms).  A disinfectant hand sanitizers or wipes are perfect for these situations.
Cover your mouth/nose! If you have to sneeze or cough, cover your mouth and nose completely with a tissue or sleeve, and then wash or sanitize your hands after.
Get plenty of rest! Lack of sleep can lower your immune system, leaving you more susceptible to becoming sick.
Eat well and drink plenty of fluids! Eating a healthy, balanced diet with plenty of fluids boosts your immune system, helping you fight off viruses and bacteria.
Be mindful and respectful of symptoms! If you are noticing any of the following symptoms, please call your physician and try to stay home to rest and prevent spreading the virus to others: fever, cough, sore throat, runny or stuffy nose, body aches, headache, chills and fatigue.
Is someone else infected? Stay away! Unless it is absolutely necessary, stay away from those who are infected with the flu, as it is contagious.
One more time…Wash your hands!
The CDC (Center for Disease Control) recommends the regular seasonal flu vaccination for everyone.  However, this will not prevent the particular H1N1 flu virus.  Pharmaceutical companies are still working to make the H1N1 specific vaccination available to the public, and are expecting it to be ready in October 2009.  Likewise, the H1N1 vaccination will not properly protect against the seasonal flu, the CDC suggests that receiving both would offer maximum protection.  The groups of people recommended to receive the H1N1 vaccination are as follows: The groups recommended to receive the novel H1N1 influenza vaccine include:  Pregnant women, household contacts and caregivers for children younger than 6 months of age, healthcare and emergency medical services personnel, all people from 6 months through 24 years of age and finally persons aged 25-64 years who have health conditions associated with higher risk of medical complications from influenza.  (Source: http://www.cdc.gov/).
We are unable to provide you with either flu vaccination.  We suggest you contact your primary physician if you would like more information on how to receive these vaccinations.  If at anytime you are experiencing the previously mentioned symptoms, we ask that you call our office to speak with a nurse instead of coming to your appointment.  We will be able to work with you, while also preventing the spread of the flu to our other patients.  Thank you!
https://www.cnyfertility.com/wp-content/uploads/2019/05/cny_logo.png
0
0
lstack
https://www.cnyfertility.com/wp-content/uploads/2019/05/cny_logo.png
lstack
2009-09-08 07:50:14
2009-09-08 07:50:14
H1N1 (Swine Flu) Information and Suggestions