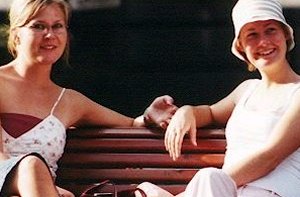 "I'm so proud of the four of us. We've come so far, and made it through so much. In the process we've gained amazing friendships as well as motherhood – the latter we weren't sure would ever materialize," explains Kasha.
Kasha, Penny, Beth and Kelly met at a Circle of Hope support group meeting while undergoing fertility treatments at CNY Fertility Center. They and their husbands were dealing with the roller coaster of infertility, and felt that a support group might help them cope during the process.
"I'd been through three miscarriages. I went to the support group because I felt I was ready for a padded room. I literally could not cope, I couldn't deal day-to-day. Some days just getting out of bed took everything I had," recalls Beth. "I needed to be around people who knew what I was going through and could support me. People who haven't experienced infertility, or in my case multiple miscarriages, don't understand the overwhelming power those experiences have. They say things like 'There will be more babies' or 'Just relax and you'll get pregnant.' They don't truly GET all the emotional, psychological and physical issues involved – and they don't have to deal with them every day."
"I had just been through a failed IVF cycle and I needed support. I came to the meeting and bawled my eyes out. Just listening to other people's stories was so validating. I felt like I wasn't alone – that other people had these same feelings, questions, anger, and hope," said Kelly.
Penny remembered, "We had been trying for a year before we came to see Dr. Kiltz, and it took us another year and a half before we did get pregnant. When I came to the support group I felt like I had nowhere else to turn. It felt like I was never going to be a mother. We had done all the right things. We had good jobs, we had a stable, loving marriage – but this one thing, parenthood, seemed like this insurmountable obstacle that we had no control over. The support group was somewhere I could go to make a connection with other people; a place to get tips and information. They created a feeling of solidarity – we were all in this battle together."
"During our first meeting, the four of us were sitting next to one another and began talking about where we were in our cycles, infertility factors, protocols, and so on. I think I knew that I had met some pretty amazing women – and they proved to be just that. We exchanged e-mails and phone numbers. We updated each other through our cycles as we got to know one another," Kasha recollects.
"These four were the women that I e-mailed with a negative pregnancy test, or when I got past a milestone. They knew what to say because they were living through it, too. There was no explaining what needed to be done, no judgment, no feelings of anything but acceptance and understanding. They really got me through so much," says Beth, "These women knew me better in some ways than anyone else in my life."
"I was completely adrift until I met people who were going through the same thing. I didn't want to open up to anyone I knew about what was going on because they just didn't get it. I couldn't handle people saying things that were insensitive or hurtful, whether intentionally or not. It was the only time I felt like I could talk about my feelings and actually feel better," explains Penny, "I had been online and read so many stories about women who never got pregnant, and it was so depressing. Going to the support group gave me hope because I saw other couples in the group having success and getting pregnant. I needed positive news to keep me strong while I continued on withtreatment."
"We did have our highs and lows even with the support of one another, but knowing you had a cushion of strength behind you made them easier to deal with. At one point while I was getting ready for a frozen embryo transfer, I was feeling so overwhelmed and frustrated that I called Dr. Kiltz and told him I was stopping my medications. He told me that I needed to do what felt right for me at the time, and that we could always do the frozen embryo transfer cycle later – when I was ready," said Kelly. "It seemed getting pregnant was the one obstacle that could not be overcome by simply working harder,trying harder, or praying harder, it just was not happening for us."
"Penny was the first with a positive pregnancy test, and I just remember feeling so much hope and excitement for her," said Kelly. "It was like one down, three to go! Which is pretty much how it went. I received my positive test later that month, then Kasha and then Beth. Penny was pregnant with triplets, Beth and I were both pregnant with twins, and Kasha was pregnant with one baby."
"We went through our pregnancies together; we e-mailed and visited. It was an amazing experience because we had a great network of support during that time as well. Once the babies were born, we exchanged clothes, tips, and information about what to expect from our new little miracles," said Kelly.
Beth happily says, "Now we get together between naps and feedings, and even our husbands have become friends as a result of our bond. It's a really great story because we all had such hardship in getting pregnant. In the end, we really succeeded – with a little help from one another."
–All four women agreed that the support group made all the difference in their journey through infertility to parenthood. Joining the Circle of Hope Support Group is free, and meetings are held monthly at all three of our CNY Fertility Center locations (Syracuse, Latham and Rochester). For more information about the support group or to ask questions, click here.
https://www.cnyfertility.com/wp-content/uploads/2018/06/CNY-BLACK.png
0
0
lareina
https://www.cnyfertility.com/wp-content/uploads/2018/06/CNY-BLACK.png
lareina
2009-04-08 08:43:05
2009-04-08 08:43:05
Fertile Friendships and Support