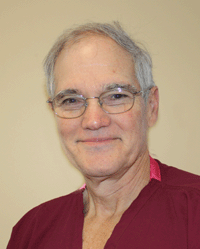 CNY Fertility Center is excited to announce that Dr. Joe Massey will be scheduling fertility consultations for patients interested in Intrauterine Insemination (IUI), In Vitro Fertilization (IVF), donor eggs, reproductive surgeries, and follow up talks in our Rochester office on Tuesdays. To schedule an appointment with Dr. Massey call our Rochester center at 585.244.1280.
Dr. Massey joined our staff in 2009 and has over 30 years of experience in IVF.  He is a native of Macon, Georgia attended college and medical school at Emory University in Atlanta. After completing training and two years in the US Navy, his private medical practice began in general ob/gyn with an emphasis on infertility, back home in Atlanta. Soon after IVF was established in Norfolk, he and his colleague Dr Hilton Kort began to realize that IVF was emerging from clinical experiment to clinical reality for patients in the US. Massey's first step was to visit Monash University in Melbourne for a prolonged tutorial in IVF methods. During his visit the group was to achieve the first donor egg success. Inspired by this accomplishment and the improving success rates achieved in leading centers, the two doctors then established Reproductive Biology Associates, or RBA.
RBA established the first IVF success in Georgia in 1983. In those days many new clinics failed to achieve pregnancies at all. This early success was followed by thousands of others over the years at what was to become the largest clinic in the South. Dr Massey stressed from the beginning that professionals involved in IVF should strive to assist in making improvements in the methods. The clinic achieved a series of major breakthroughs under the guidance of a succession of innovative lab directors including Jacques Cohen PhD who helped achieve early success in embryo freezing. The world's first micromanipulation-related pregnancy was reported at RBA, demonstrating a pre-ICSI method of introducing sperm. Further micromanipulation trials by the team led to the first publication of assisted hatching to help embryos implant. The first successful randomized trial of co-culture was reported and was recognized with the overall first prize for research by the American Fertility Society in that year. When ICSI was improved and began to allow men with low sperm quality to achieve success with IVF, RBA logged the first US pregnancy. This led to national press coverage.
At RBA in Atlanta, egg freezing trials were long and difficult. Over 100 eggs were thawed before finally three babies were born, again a first in the US and once more leading to national attention. Egg freezing advances by others have ensued and finally egg banks are a reality. This approach offers major cost savings as Dr Massey had predicted but been unable to achieve using the methods of slow freezing then available.
Dr Massey has now turned his interest to improving access to IVF for large numbers of people. He was the clinical chief investigator in a new method to improve IUI. Dr Massey has been following the possibilities of natural cycle in vitro maturation for 4 years. He has attended courses and meetings on the subject and he has written the protocol for a study. This study is the first large scale US prospective randomized trial which is designed to determine the cost effectiveness of the treatment.
Dr Massey feels strongly that assisted reproduction should now be available in the US to a broad spectrum of the population, not only those lucky enough to have proper insurance or the means to cover the costs.
https://www.cnyfertility.com/wp-content/uploads/2018/06/CNY-BLACK.png
0
0
lareina
https://www.cnyfertility.com/wp-content/uploads/2018/06/CNY-BLACK.png
lareina
2010-01-19 21:47:35
2010-01-19 21:47:35
Dr. Massey Offers Consultations in Rochester Office