Donor Attitudes Regarding Embryo Donation
Donor Attitudes Regarding Embryo Donation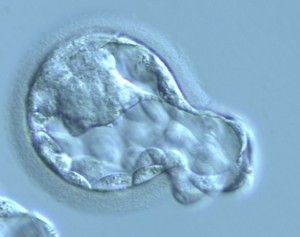 CNY Fertility Center in Syracuse, Rochester and Albany, NY offer a wide range of reproductive options including IVF with oocyte (egg) donation, embryo donation and adoption. CNY Fertility Center provides affordable fertility services in a warm and supportive environment. There are over a hundred thousand embryos in storage in Australia and hundreds of thousands in the United States. Not all of these are available for donation, as the originating couples often use the embryos to continue building their family. Couples whose families are complete but have stored frozen embryos are often offered the option to donate their embryos, either to another couple or for research. Catherine A. McMahon, Ph.D., and Douglas M. Saunders, M.D. of the Psychology Department at  Macquarie University, New South Wales and IVF Australia in  Sydney, Australia have studied the attitudes of couples who are dealing with these issues. Currently embryo donation is under utilized. CNY Fertility provides a summary of this recent study below, edited by Dr. Joe Massey.
In IVF practice the number of couples requiring donor embryos continues to greatly outweigh the number of donors (1), and present donor recruitment is not improving (2). In embryo donation there is no compensation to the originating couple thus the success depends on recruiting altruistic donors (3, 4). An understanding of the views of other infertility patients regarding stored embryos is critical to informing other potential donors and recipients (4, 5). Although most couples indicate that they would prefer embryos to be used rather than destroyed (6, 7), in reality the majority opt to dispose of their embryos (1, 8, 9). Few are inclined to donate to other infertile couples (6, 10), and even fewer actually donate (1, 6, 7).
A major hurdle is that couples think of frozen embryos as potential children and siblings of their existing children (7). There is a related concern about the lack of control over what happens to the embryos after donation which contributes to ambivalence (4, 6, 8, 10-12) and distress regarding decision making (6, 8).
Consent processes should give donors explicit control over the ways in which their donated embryos will and will not be used (12, 13).
The difficulties in contemplating embryo donation are outlined with direct quotes from couples with frozen embryos. A few examples are cited here.
Ownership: "I do not feel comfortable donating embryos to another couple as I perceive the embryos as my/our children."
Ongoing sense of responsibility for embryos: "I would always wonder if the child was OK and being cared for."
Concerns about consanguinity – implications for existing children: "I don't believe there should be a population running around that are possibly related and don't know it."
Guilt regarding reluctance to donate: "Having struggled with infertility for 6 years I would love to be the sort of person who could donate my embryos to help another couple struggling with infertility.  But I'm not sure I can."
Control would reduce donor anxiety: "Donating embryos is like adopting out a child – it would greatly reduce the anxiety about this if you knew your wishes for that child could be catered for."
The current data provide some support for views that embryo donation needs to be presented in a different way to patients in order to encourage embryo donation. Some suggest that open or directed embryo donation may ease some of the anxiety that couples feel about the future of the offspring by offering some assurance about the suitability of recipient couples (18). Challenges to implementation include difficulties in specifying criteria for parental "suitability" and the potential for discriminatory practices is an issue (16, 17).  There are parallels with traditional adoption, but the legal framework needs additional development.
REFERENCE
Catherine A. McMahon, Ph.D., and Douglas M. Saunders, M.D. Attitudes of couples with stored frozen embryos toward conditional embryo donation. Fertil Steril 2009; 91;14-27.
McMahon references:
Kovacs G, Breheny S, Dear M. Embryo donation at an Australian university in vitro fertilization clinic: issues and outcomes. Med J. Aust 2003;178: 127-9.
Craft I, Thornhill A.  Would all inclusive compensation attract more gamete donors to balance the loss of anonymity? Reprod Biomed Online 2005;10:301-6.
Bahadur G.  Altruism in assisted reproductive technologies. Reprod Biomed Online 2001;3:155-9.
Lyerly A, Steinhauser K, Namey E, Tulsky J, Cook-Deegan R, Sugarman J, et al. Factors that affect infertility patients' decisions about disposition of frozen embryos. Fertil Steril 2006;85:1623-30.
Bankowski B, Lyerly A, Faden R, Wallach E.  The social implications of embryo cryopreservation. Fertil Steril 2005;84:823-31.
Hammarberg K, Tinney L. Deciding the fate of supernumerary frozen embryos: a survey of couples' decisions and the factors influencing their choice. Fertil Steril 2006;86:86-91.
De Lacey S.  Patients' attitudes to their embryos and their destiny: social conditioning? Best Pract Res Clin Obstet Gynecol 2007;21:101-12.
De Lacey S. Parent identity and "virtual" children: why patients discard rather than donate unused embryos. Hum Reprod 2005;20:1661-9.
Darlington N, Matson P. the fate of cryopreserved human embryos approaching their legal limit of storage within a Western Australian in vitro fertilization clinic. Hum Reprod 1999;14:2343-4.
Nachtigall R, Becker G, Friese C, Butler A, MacDougall K. Parents' conceptualization of their frozen embryos complicates the disposition decision. Fertil Steril 2005;84:431-5.
McMahon C, Gibson F, Cohen J, Leslie G, Tennant C, Saunders D. Mothers conceiving through in vitro fertilization: siblings, setbacks and embryo dilemmas after five years. Reprod Technol 2000;10:131-5.
McMahon CA, Gibson FL, Leslie GI, Saunders DM, Porter KA, Tennant CC.  Embryo donation for medical research: attitudes and concerns of potential donors.  Hum Reprod 2003;18:871-7.
Newton CR, McDermid A, Tekpetey F, Tummon IS. Embryo donation: attitudes toward donation procedures and factors predicting willingness to donate.  Hum Reprod 2003;18: 878-84.
Waters A-M, Dean JH, Sullivan EA.  Assisted reproductive technology in Australia and New Zealand 2003. AIHW Cat. No. PER 31.  Assisted Reproductive Technology Series No. 9. Sydney: AIHW National Perinatal Statistics Unit, 2006.
Fuscaldo G, Savulescu J.  Spare embryos; 3000 reasons to rethink the significance of genetic relatedness. Reprod Biomed Online 2005;
10:164-8.
Van den Akker O. A review of family donor constructs: Current research and future directions. Hum Rep Update 2006;12-91-101.
Parry S. (Re) constructing embryos in stem cell research: exploring the meaning of embryos for people involved in fertility treatments. Soc Sci Med 2006; 62:2349-59.
Crockin S. Embryo "adoption": a limited option. Reprod Biomed Online 2001;3:162-3.
Article Sources