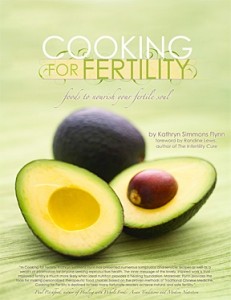 The wisdom that what you eat is a direct reflection of your health is now widely accepted as science continues to prove that certain foods do in fact improve reproductive function. For years, clients have requested more delicious tasting fertility friendly recipes.  From this desire emerged the idea for my cookbook: Cooking for Fertility: Foods to Nourish Your Fertile Soul and an instructional Cooking for Fertility DVD for those wanting to learn how to cook to conceive.  Cooking for Fertility is a simple approach to nourishing reproductive function that combines modern science with the ancient wisdom of Traditional Chinese Medicine.
While enhancing your chances of conceiving, the bigger picture of living a fertile life is important including learning lifestyle, exercise and food choices that are fertility promoting. For those experiencing infertility, specific meal plans address common Western and Chinese Medicine imbalances with healing foods. By optimizing your digestion, you naturally absorb more nutrients and prepare yourself for a healthy pregnancy. Above all else, the key to eating for fertility is pleasure: over 100 delicious recipes included for your enjoyment including the healthy chocolate mousse below!
Chocolate Mousse with Tofu and Avocado
Dark chocolate has numerous health benefits including its arginine content, which encourages blood flow to the uterus and ovaries. Tofu is a healthful alternative to whip cream and eggs and it preserves the creamy texture of this delicious mousse (along with the avocado). Using a low-glycemic sweetener is important to stabilize blood sugar levels, is important for energy levels, metabolism and balanced reproductive hormones.
Preparation time: 5 to 10 minutes
Serves 4 to 6
10 ounces dark chocolate, melted
1 package silken tofu
(optional: 1/2 an avocado)
2 to 4 tablespoons agave syrup
1/2 teaspoon cinnamon
2 teaspoon vanilla extract
In a blender or food processor, puree tofu and optional avocado, with agave, vanilla and cinnamon until perfectly smooth. Add melted chocolate and mix until fully combined. Pour mixture in a bowl, and let sit in the fridge for at least 4 hours.

~~
By Kathryn Flynn
Source: Cooking for Fertility: Foods to Nourish Your Fertile Soul and Cooking for Fertility DVD
Kathryn's Cookbook and DVD are both available online at Dr. Rob's Mind-Body Web Store here.
https://www.cnyfertility.com/wp-content/uploads/2018/06/CNY-BLACK.png
0
0
editor
https://www.cnyfertility.com/wp-content/uploads/2018/06/CNY-BLACK.png
editor
2010-07-13 06:57:52
2010-07-13 06:57:52
Cooking for Your Fertility