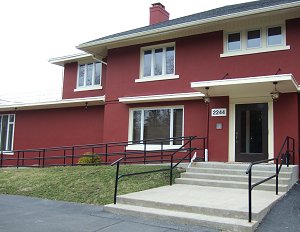 On Wednesday, May 27th, 2009 Dr. Robert Kiltz sponsored a dinner at Black and Blue in Buffalo, NY. The purpose of the dinner was to gather with Buffalo physicans and introduce them to the Rochester CNY Fertility Center Staff.
During the dinner they discussed integrating eastern and western methods of treatment in fertility care. The CNY Fertility Staff members reached out to the Buffalo OB/GYN community to introduce themselves, introduce Dr Kiltz' "unique" approach to Fertility care, and extended our services to Buffalo clients. They also showed their appreciation for any referrals that CNY Fertility had already received.
Rochester CNY Fertility Center Staff members in attendance:
Dr. Robert Kiltz, Judy DeCoste, Dr. Lana Cain, Jodie Brinthaupt, NP, Cathy Imes, R.N., Aimee Fedele, Heather Smith, L.A.c.
Buffalo OB-GYN's that attended:
Dr. Mario Reyes, Dr. Sam Weissman, Dr. Sheri Baczkowski, Dr. Stephen Mechtler, Dr., Taechin Yu, Dr. Marcelino D'Souza, and Nancy Osgood, R.N.
Quote from Dr. Kiltz:
"On Wednesday, May 27th, 2009 we spent a wonderful evening with great people and great food at Black & Blue Restaurant in Buffalo, NY. We shared some good conversation and connected with new people. We shared thoughts and ideas on Integrative Fertility Care utilizing the Eastern and Western approaches to help people on their journey to creating their family."
Quote from Dr. Cain:
"Dr Kiltz was able to begin a discussion with local OB/GYN physicians about  his approach of integrating healing arts services with the typical western medicine fertility care.  He emphasized his belief that providers should not be afraid to offer additional services (support groups, acupuncture, massage), that can help fertility clients and their partners address both physical and emotional needs during this challenging time in their lives."
~Thank you to all whom attended!
https://www.cnyfertility.com/wp-content/uploads/2018/06/CNY-BLACK.png
0
0
CNY Fertility Team
https://www.cnyfertility.com/wp-content/uploads/2018/06/CNY-BLACK.png
CNY Fertility Team
2009-06-19 10:54:02
2009-06-19 10:54:02
CNY Fertility Center Staff meet with Buffalo OB/GYN Physicians