Paige & Rob
California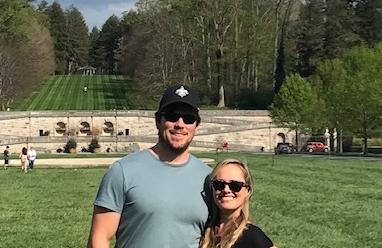 Infertility Diagnosis
Treatment(s)
In vitro Fertilization (IVF)
Paige & Rob's Story :
We have always known we wanted children and so we began trying immediately after getting married in early 2016. We started out so sure we would conceive quickly, as most couples do. You wait so long to find your partner and when you do you just can't wait to start the next chapter of your life.
Months went by without any success. After realizing we weren't like so many friends and family around us, conceiving so easily, we decided to see a doctor. I learned I have a low egg reserve and Rob has abnormal morphology, not a great combination.
Over the course of the next two years we underwent several tests and procedures trying to find any other underlying medical answer as to why it just wasn't happening for us: a hysterosalpingography for fallopian tube blockage, transvaginal ultrasounds for cyst detection, multiple blood tests, and a laparoscopy to test for endometriosis. We were incredibly lucky to learn I did not have endometriosis, which I know so many women struggle with daily.
After about a year and a half of trying, we began IUI treatment as well as medicated cycles (letrozole and progesterone). After six tries, we became extremely hopeless regarding our chances with fertility success. We have also continued acupuncture treatment and several diet changes (keto now).
We have never received a positive pregnancy test and hope to one day experience that feeling. It has now been almost three years of trying with heartbreak every month.
Several months ago, Rob read the WSJ article about CNY. Everything truly changed for us after this. The CNY community is indescribable. Nowhere else (and I have searched high and low) do future parents receive such genuine positivity, real support, and pure hope about the future. We particularly love CNY's embrace of eastern medicine (acupuncture and yoga) into the fold of a holistic fertility plan. Doctor Kiltz is truly special in his approach - his spirit is contagious.
A few months ago, I was watching a Sunday "fireside chat" when Dr. Kiltz mentioned his former mentor - Dr. Klooster at Kaiser in Sacramento. This shook me - Dr. Klooster was my previous OBGYN at Kaiser (and the first doctor to truly listen to me and advise I undergo a laparoscopy). This connection was a sign - we knew CNY was the place for us.
My family has noticed such a difference in our outlook since we found CNY and the positivity has relieved a great deal of pain, sadness and anxiety. CNY has given us hope.
After entering the IVF giveaway for several months, I decided to ask family and friends to join in. This was really hard for us - we really have a hard time asking for help. But, to win this gift would truly change our lives. We knew it would be worth it. Our family and friends got on board for December. I was hopeful - but never convinced. We don't have the greatest luck and with so many incredible women and men entering with such moving and difficult fertility journeys, it would be just so incredible for anyone to win.
My father, 84, has been in the hospital the last few days and so our new years eve was rather trying and emotional. I woke up this morning and slowly sifted through my social media after a break - only to learn we were the December Holiday Giveaway winners! We cannot believe it.
To know us is to know we have sorry luck. I have literally never won anything in my life. We are still in complete shock and just stunned to receive a gift so huge. We are so grateful for the CNY community, in its entirety, the staff and all of the patients and community members. We are truly overcome with disbelief and joy. Months and months of entering and it paid off! We are particularly so grateful for every single CNY community member who adds to this incredible world of positivity and light.
As excited and joyful as we feel, it is difficult to know the sadness and disappointment others may feel learning another giveaway has come and gone. We never thought we'd win, please keep entering! Life may surprise you beautifully.
We have our consultation on January 23rd and hope to start IVF immediately afterward. Until then we are committed to keto and practicing positive thinking ;).
Thank you CNY, Dr. Kiltz, for your generosity, guidance, and support. This feels unreal. We CANNOT wait to get to Syracuse.
Favorite Team Member at CNY :
We have not undergone any treatment at CNY thus far. However, the staff has been wonderful! I have spoken with several staff members while calling to schedule our consultation, to ask questions and to bug CNY about any last minute openings ;). Every single interaction has been positive, pleasant and left me feeling heard.