Melissa & Mike
Nevada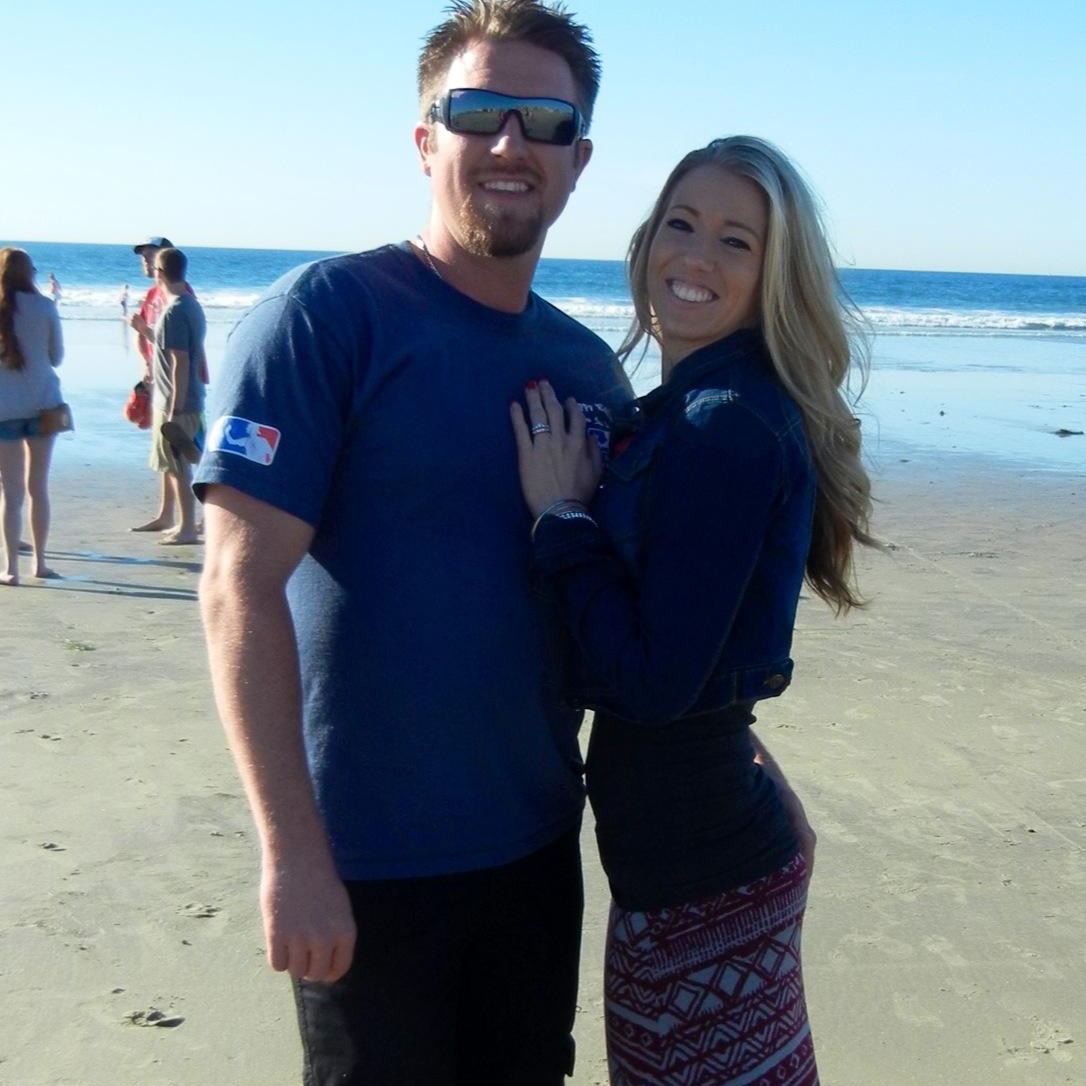 Infertility Diagnosis
Treatment(s)
Frozen embryo transfer (FET)
In vitro Fertilization (IVF)
Melissa & Mike's Story :
When I was a little girl I had always dreamt of having my own kids one day. As I grew up I babysat my mothers friends babies, even though I was still young myself. My mother would help me, obviously, but it was something I loved doing, from changing diapers to feeding, to helping each one of them learn new things. I would also do the girls hair and do mini photo shoots, modeling. Watching children of all ages younger than me was what I loved more than anything.
From the time I was in elementary school I had always thought I was going to be a pediatric nurse. Well, it didn't happen so perfect. We all have hopes and dreams which don't always come true. Once I got into high school never being a kid that did any drugs, I decided I wanted to work at a daycare. I got my very first job at La Petite when I was 15. I worked with all ages mostly infant and toddlers. I was just a teachers aide but still got to change diapers, feed them, as well as pat their backs as they would fall asleep. After working there for about 8-10 month a new law had passed, you had to be 18 to Work in child care. Needless to say I was let go. I was devastated. I then started going to help my step mother whom worked in a daycare. When I wasn't in school I was able to help her with her classes going on field trips setting up lunches and doing crafty projects.
As I approached sweet 16 and got my first menstral cycle the summer before. I was a late bloomer. It was awful, the cramping the pain, I was missing school, getting sick. My mom took me to my first gynecology appointment, petrified to say the least. The doctor put me on birth control. I was still having pain and missing school, so I shortly went back. I was about 17 when we decided to try the Depo-provera shot. It was like a miracle drug, no more periods.
Once I turned 18 I grew up, started going out with friends doing things I probably shouldn't have been doing, being an adolescent to say the least. I decided to get off the shot as I was gaining quite a bit of weight. Still hadn't had a period for a few months after, but once it came it was full force. My mother suggested I go back to the doctor and see what's wrong. My gynecologist kept telling me it's normal I'm fine, don't worry about it, your a women now. I decided just a year later I wanted a second opinion. I ended up seeing a male doctor as originally I was seeing a female. He immediately told me let's do laparoscopic surgery to see what's going on in there. I was all for it but everyone kept telling me he probably just wants to operate. I ignored the hear say and went forth with surgery in January 2006, and boy am I glad I did. Once I woke up and was alert enough I was told surgery ended up being 4 hours and I had one of the WORST cases of endometriosis my doctor had ever seen in someone so young. He said it was EVERYWHERE. My Fallopian tube was connected to my colon, it was on my bladder, my uterus, and ovaries, they even had to remove my appendix it was so bad.
After surgery about a couple week I went in for post op appointment still in quite a bit of pain, and doctor told me, "if you plan on having children I suggest doing so as soon as possible." Being so young and not quite ready I ran it across my current boyfriend, who definitely was not ready to be a father. I soon began to think maybe I will never be able to have a child. As time went on eventually my boyfriend and I had split after 5 years. Obviously at the time it wasn't meant to be. Living my single life on and off for about a year, still seeing my ex- boyfriend hear and there, I felt like I was ready to accept I would never be a mother.
In 2003 I when I graduated high school, my best friend who drove me to my graduation, like a maniac because we were running late, passed away just a few months later. As if I wasn't dealing with enough, I lose my best friend. While I was at the hospital, praying my best friend would come through and arguing with my on and off boyfriend, I met her ex-boyfriend. Him and I became close friends. We started hanging out and he started introducing me to his friends, I'd go out with him all the time. He later introduced me to this man that I couldn't get off my mind. He was the most amazing man I had ever met. For years I had my eyes on this guy but we were both in other relationships so we lost touch for a few years.
Late 2007, I met up with my best friends, ex boyfriend, for a birthday party. We went in a limo down the strip. Low and behold if THE amazing man wasn't there. I think I had the biggest smile on my face, as I was now single and guess what?? So what he! We hit it off right away spent the whole night together. I even woke up in his bed the next morning, no nothing happened. (Hehe) He then took me to my car and I went home, as my girl friend and I were leaving on a cruise in a day. As I walked through the door of my mothers house, my mom was like why are you so happy? So, I told her the whole story. From the next morning forward he sent me the most adorable text messages every single morning.
So once I returned from the cruise 4 Days later, and my brother decided to make a double date with me, my ex boyfriend, him, and my girlfriend, which my brother was dating at the time. We went to dinner and then a show. I was miserable and could keep my mind off Mike, the amazing man. Later that night I told my ex boyfriend it was over for good, I needed to move all my stuff back to my moms. At the time he wasn't exactly happy with it but we both knew it was for the best.
Mike proceeded to keep texting me every morning, as I was trying to play hard to get, he asked me out on a date. He came to pick me up one night from my mothers house and we had the best evening. We literally talked everyday, I would go to his house after work and the gym. I usually stayed at his house and eventually moved my toothbrush in to my clothes. We were inseparable. Things were perfect.
Once I got a little more comfortable with Mike, I proceeded to tell him my issues I had with endometriosis and I might never be able to have kids. He was absolutely okay with it, which made me happy to know I'd never lose him because of that. As our relationship kept moving forward I soon moved in with him and his roommate. Everything was perfect. After a couple years the roommate moved out and we had the house to ourselves. Years went on things continued to get better. Until one night we were at dinner at Chili's,I will never forget that night. I simply asked him do you still want to have kids, his response, " I'm not sure." I completely lost it, I was so sad, but willing to accept the decision he had made because I was so I love with him. I wasn't even sure if I would ever be able to have children.
Years went on we got engaged in 2007, married in 2013. People would continually ask us, " do you two have kids. When are you planning to have kids?" I eventually thought about it more and more. I was still ok with his decision if he didn't want kids but I thought it was time to re hash and talk about it again. On the evening of our fantasy football draft, another evening I will never forget, I simply said I want to try and have a baby . He says " ok we can try and see what happens."
As a could years pass us still trying, now seeing a specialist. It was one thing after another for 6 long months from husbands testosterone being low, to my AMH being low, to abnormal HSG (Fallopian tube blocked), then another laparoscopic surgery to find out test again stage 4 endometriosis is back! I can't catch a break. "Why me," I keep saying over and over. "Why does god not want me to be a mother?" "Have I done something so terrible I'm being punished?" I've now accepted I might never get the chance to be a mother. So my husband and I have decided to try our last hope, CNY. I pray and pray and pray that this will be then end of our journey but the beginning of our miracle baby!
So with that all said when People ask me if I have children, and when I politely say no (usually with a forced smile) they always say something to the extent of "wow, how old are you? (I'm 33) What are you waiting on? Don't wait too long!" And I laugh it off and agree with them.. when really what I want to say is... I always thought I'd have kids young, however that ended up not being the path for me. Instead my path has consisted of painful surgeries, scars (mentally and physically) different medications and trying new diets and vitamins to cure myself naturally. Sitting back and watching all of my childhood friends grow up and get married and create families of their own and trying to figure out how to be happy and excited for them, while also feeling unfairness. It's watching your siblings also grow up and create families of their own, and LOVING their families more than anything, but feeling empty at the end of the day. Its watching teenagers and drug addicts get pregnant on accident but you can't get pregnant on purpose. It's being angry because you feel like you're incapable of doing the main thing that you as a women was put on this earth to do is give life. It's being uncertain if that will EVER be the path for you, but still trying to have hope. It's PCOS. It's endometriosis. It's ovarian cysts. It's infertility.. and it's real. So people please before you ask a women why she doesn't have children, be mindful that it just might not be her choice. Some of us may look happy on the outside but dying on the inside!
Favorite Team Member at CNY :
Everyone is so seeet and willing to go above and beyond to help others.