Asking for and Accepting Help from Loved Ones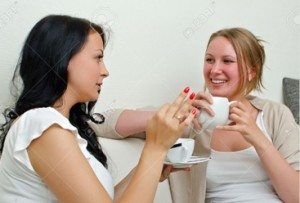 Asking for and Accepting Help from Loved Ones
The On-Going Challenge
The challenge of infertility is not momentary.  Unfortunately, for many women, infertility is a daily struggle that they must endure for years.  The steady and constant burden that many women feel with infertility can make asking for and accepting help from loved ones seem fruitless.  Will one cup of tea with your sister really help?  Will one movie night with your best friends after a miscarriage actually make you feel better?
Grief doesn't have to mean isolation.  Grief, from infertility, should be viewed just as any other struggle.  Grief also cannot be placed on a sliding scale.  It isn't fair to say "Well, she isn't sick, but she did have a miscarriage."  This minimizes the emotional burden that someone may be carrying.   Infertility is just as valid a struggle as any other medical condition, and we do not need to isolate ourselves, or carry our burdens silently.  Yes, you are strong and resilient.  However, if you have been steadily enduring infertility for 1,095 days (3 years), or any length of time, it is OK to hand one of those days over to those who love you.
It's Okay to Share Your Burden
If you choose to let your closest loved ones in on your journey with you, you may find that allowing your sister (husband, mom, friend, etc.) to share the burden with you for even just one day will help make the rest of the 1,095 feel more manageable and less lonely.  That one movie or one cup of tea suddenly moves from feeling fruitless to becoming a trail marker.  That one moment can help you to break up the journey into segments, and now you have enough support and love reserved to help carry you to the next trail marker.
Lisa Stack regularly discusses this topic in greater depth.  We hope that you'll join her and begin to shed the mindset of isolation on your journey. For our full list of events this month, please visit our CNY Fertility Event Calendar.
Did you know that we started  new Private Facebook Fertility and Pregnancy Groups for current clients?  We also have groups for Secondary Infertility and Pregnancy Loss. Here, you can find a safe and secure space to share with other women and men facing similar challenges.  You can get immediate support and feedback!  If you are interested in joining, please email Lisa Stack at Lstack@cnyfertility.com
If you are interested in a more private one-on-one support situation, Lisa Stack is our CNY Fertility Center Support Coordinator. She offers her services as a lay support person and can be contacted by email at lstack@cnyfertility.com if you are not yet a client or via the Patient Portal if you are a current client.
Article Sources