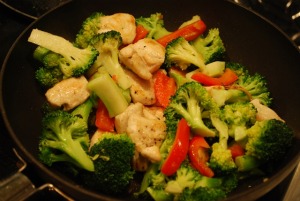 If you are a woman with Polycystic Ovary Syndrome (PCOS), than you know there is currently no cure for your condition. Because of this fact, it is important for you to start managing your symptoms at an earlier age to reduce your chances of health complications like diabetes and heart disease.
Instead of focusing on just one aspect of your condition (such as difficulty getting pregnant), a more holistic approach to treatment addresses all of your symptoms and helps prevent future ones from arising. The most effective ways for you to prevent health problems is to eat right, exercise, and avoid smoking.
Focusing on healthy eating, women with PCOS should seriously limit their intake of processed food and drink. By adding more raw fruits and veggies, whole-grain products, and lean meats to their diets, these women can help lower their blood sugar levels, improve their body's use of insulin, and normalize hormone levels. Note: if you are an overweight woman with PCOS, as little as a 10% loss in body weight could restore a normal period and regulate the menstrual cycle.
Recipe for PCOS: Chicken Stir-Fry
Ingredients:
3 cups cooked brown rice
1 tablespoon canola oil
6 skinless, boneless chicken breasts, cut into bite–sized pieces
2 cloves garlic, minced
2 large onions, chopped
2 large bell peppers, diced
1 carrot, sliced into thin half–moons
1 cup broccoli florets
Salt and pepper
How to make it:
1. Cook rice according to the directions on the box.
2. While the rice is cooking, heat oil in a large skillet and fry the chicken until it is fully cooked – then set it aside.
3. Fry the garlic, onions, and bell peppers for about 5 minutes, then add the carrot and broccoli and sauté everything for a few more minutes. When done, the broccoli should be hot, but not wilted.
4. Add the chicken back to the skillet and season everything to taste with salt and pepper (if you are unsure of how much seasoning to add, less is better – you can always add more if you want).
5. Serve ½ cup of warm brown rice topped with sautéed chicken and veggies. Makes 6 servings.
https://www.cnyfertility.com/wp-content/uploads/2018/06/CNY-BLACK.png
0
0
editor
https://www.cnyfertility.com/wp-content/uploads/2018/06/CNY-BLACK.png
editor
2011-04-14 04:30:27
2011-04-14 04:30:27
Another Quick Recipe for Women with PCOS