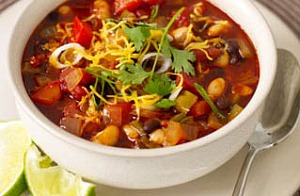 Did you know that almost 1 in every 10 women has Polycystic Ovary Syndrome (PCOS)? Unfortunately, PCOS is a common problem among young women from their teen years on. Although there are medications to treat the symptoms of PCOS, a healthy diet and regular exercise are essential to treating the condition as a whole.
Women who have PCOS should eat small meals and snack every few hours instead of eating large meals three or less times a day. In addition, they should include a balance of carbs, proteins, and fats at as many meals and snacks as possible. These carbs should be high in fiber and whole grain as opposed to refined grain (white flour). Women with PCOS should, also, be eating a large variety of fruits and vegetables, especially those berries, legumes, and dark leafy greens. They should be choosing healthy fats (unsaturated and monosaturated) over saturated or trans fats as well as limiting themselves on sugary food and drinks.
Recipe for PCOS: Vivacious Vegetarian Chili
Ingredients:
2 (15 ounce) cans pinto beans, drained and rinsed
1 (28 ounce) can crushed tomatoes
1 (16 ounce) can kidney beans, rinsed and drained
1 (15 ounce) can yellow hominy, drained
1 (6 ounce) can tomato paste
1 (4 ounce) can chopped green chilies
2 small zucchini, halved and thinly sliced
1 medium onion, chopped
1 1/2 cups water
1 tablespoon chili powder
1 teaspoon ground cumin
1 teaspoon salt
1/2 teaspoon garlic powder
1/2 teaspoon sugar
1/2 cup shredded Monterey Jack cheese
How to make it:
1.  Combine everything but the cheese in a large kettle or Dutch oven.
2.  Mix well.
3.  Bring the chili to a boil then reduce heat, cover, and simmer for 30-35 minutes.
4.  Sprinkle with cheese.
https://www.cnyfertility.com/wp-content/uploads/2018/06/CNY-BLACK.png
0
0
editor
https://www.cnyfertility.com/wp-content/uploads/2018/06/CNY-BLACK.png
editor
2011-03-13 06:30:35
2011-03-13 06:30:35
A Quick Recipe for Women with PCOS